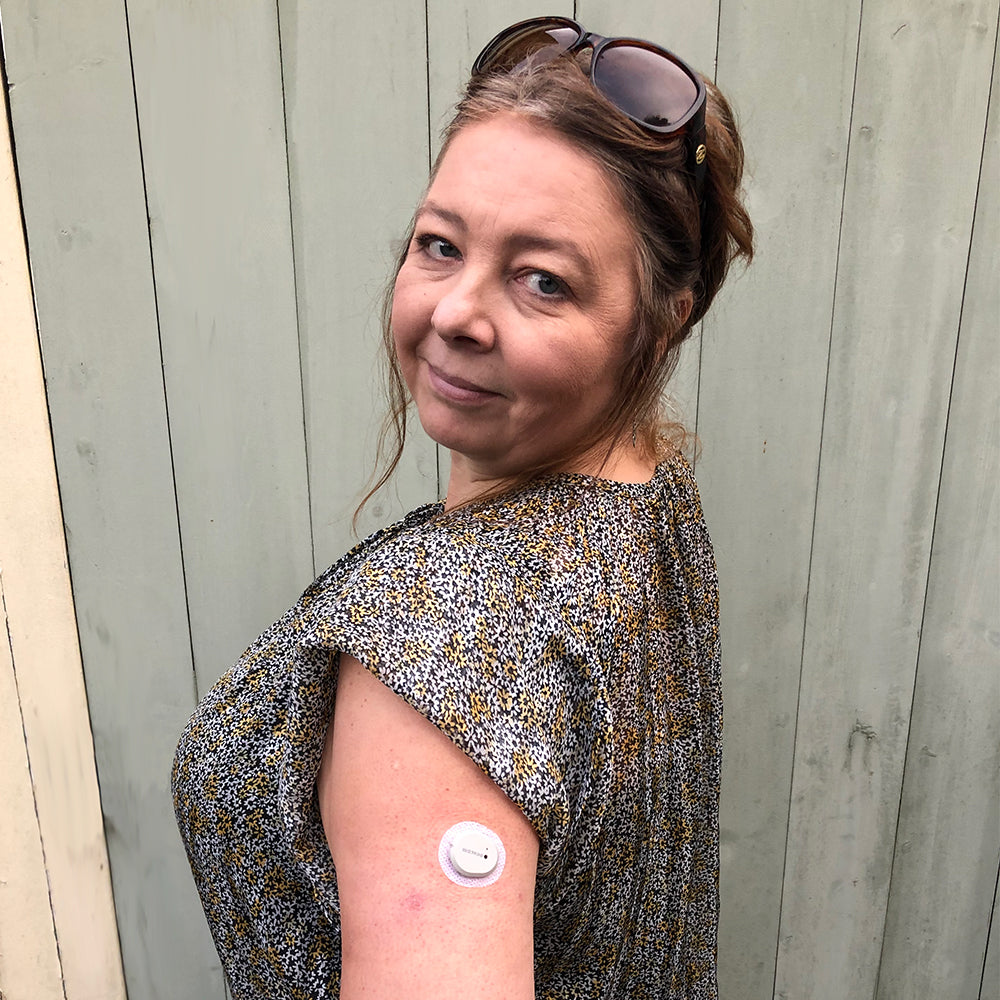 Blogs and publications on this website are independent of any involvement by medtech companies or diabetes related charities. To ensure there is no bias, we do not accept any products, freebies or other material from any medtech provider. All materials are copyright
©️ 

Love My Libre Ltd.
***
The G7 is hot off the press, so to speak, and I was lucky to purchase one and receive it less than 48 hours after its launch in the UK. However, as the title for this review implies, I only got to wear it for around 48 hours as it was a little too easily knocked off when brushing arms with another person.
In this blog I'm going to go back to the beginning to tell the story of my experience and why I feel underwhelmed by this latest medtech, but first a little background to the review…
This review is likely to be different to what others are likely to be telling you as I am not currently a user of Dexcom G6. Many other reviewers are, so their views usually reflect a bias for Dexcom products.
I currently use a FreeStyle Libre 2 and have approached this trial of the G7 from a much more neutral stance.
It's also a point to note that I purchased the G7 myself and I do not have any affiliation or association with Dexcom, nor FreeStyle Libre. I have never been provided with any 'free products' to trial or review. All views are my own.
You may also be interested to read our blog: Dexcom G7 - What to expect. Click here.
Features overview
✅       Real-time CGM, updates every 5 minutes
✅        10-day sensor + 12 hour grace period
✅       New shape, more rounded & similar size-wise to Libre 1 & 2
✅       30-minute warm-up period
✅       Grace period of 12 hours (meaning you can change it up to 12 hours after initial period of 10 days have ended without losing data)
✅       New style one-piece applicator
✅       Combined sensor & transmitter (requires pairing)
✅       New G7 app with simple user interface
✅        Predictive alarms including Urgent Low Soon Alert
✅       IP68 water-proof rating
 ❎      Not yet available on NHS prescription (England)
Ordering & delivery
The ordering process is set-up for current Dexcom users, so it took a little longer for me to place an order as I needed to sign-up to an account first and this seemed to take a while, complying with the password requirements etc.
However, UK delivery was quick, arriving the next day.
Customer support
First thing, I needed to set up the app but it didn't download correctly and I had to call the customer support. It took a while to get through, but to be fair, this was a few days after the G7 UK launch so it's partly understandable that the phone lines were busy.
The person I spoke to was very helpful and patient, but it did take around 45 minutes before I had completed all the stages and was ready to apply the sensor. It seemed I had to give quite a lot of personal data to Dexcom such as type of diabetes and if MDI etc. It certainly wasn't a matter of getting up and running quickly out the box, but I assume this part only applies as a new user.
My set-up
I applied the Dexcom G7 on the back of my upper arm with overlay provided in the box with the sensor - very fiddly! I did not wear any other support.
Note, some reviewers have assumed the overlay itself is 'Dexcom green', it's not! it is just the sticker that you peel off and is the usual white adhesive that you attach to the skin that looks medical.
My FreeStyle Libre was worn on my other arm, again on the back of the upper part.
I downloaded the G7 app to my iPhone 8 Plus and my husband uses an iPhone SE although he couldn't get the Follow app to work.
Costs
In the US, the G7 will be covered by Medicare from the launch on 17th February 2023.
I ordered an individual G7 sensor which cost me £51.25 plus delivery at £4.99 (in the UK).
There is an option to order a month's supply of 3 sensors which costs £153.75 plus delivery. There is also an option to subscribe to the Dexcom flexible monthly or quarterly subscription which cost £140 per month and £409 per quarter, respectively.
Note: These prices apply for self-funding in the UK and will differ in other markets.
Compatibility
It is crucial to check the compatibility of your phone before purchasing a G7 as there are limited options. In essence it is iPhones from series 8 and newer some Samsung phones and Google Pixel 4 and 5 that will work with the G7.
You should also check the compatibility of a follower's phone for using the follower app if you are planning to use this feature.
Application
The G7 can be worn on the upper arm or abdomen and as I am used to wearing a sensor on my upper arm this is where I chose to locate it. Although positioned on the back of the arm. I am not familiar with applying the overlay (supplied with the sensor) and it does seem fiddly, but probably is fine once you've done it a few times. I wasn't too keen on this aspect as it does make the sensor appear much more noticeable as being 'medical'.
I also hadn't realised that the logo would appear upside down, until it was too late.
To initiate the G7 users are required to pair the transmitter which can be done by either scanning a QR code or keying in the serial number shown on the applicator into the app. Although I accept it is a quick process, it's an extra step to applying a FreeStyle Libre.
Wearing the sensor
As shown above, although the dimensions of the G7 are smaller, it appears actually as very similar in size to the FreeStyle Libre 1 and 2 as there is more adhesive showing. And it's even more noticeable when the overlay is applied! So, it's not smaller than the Libre and has a similar profile.
I showered wearing the G7 without any issue. I didn't get to try out other activities, but the instructions state that it is suitable for swimming, showering and bathing and it can be worn for up to 24 hours in water to a depth of 2.4 metres.
I didn't experience any itching, rashes or allergic reactions.
Alarms
To be honest, these drove me mad! On the first night of wear, the Urgent Low Soon alert went off constantly. As a rookie to the system, I hadn't found out how to silence this for longer than 15 minutes and as I didn't want to fully wake up I would scan my Libre sensor on my other arm and see that I was not hypo, or heading that way. I then tried to go back to sleep only to be woken again after around 15 minutes. I didn't feel hypo and have good awareness but to end the cycle of the alarm waking me every time I dropped back off to sleep, I took a mouthful of gel to boost my blood sugar. The following day I found the instructions for silencing the alarm for up to 6 hours. Such a relief!
Note, in the US not all alarm options that are available in Europe will be available to US customers at launch.
Using the app
The main screen is very easy to read and has a nice, modern design. The colouring is subtle and it's easy to glance at to get the reading and trend direction. The average glucose is shown (after an initial few hours) and the time in range appears as a vertical combined bar chart.
FreeStyle Libre does offer many more reports and although this does add to anxiety in some ways, the reports are useful for identifying trends which I feel is lacking with this app for the G7.
I liked the initial look off this reporting screen, but after the pleasure of seeing my glucose levels in real-time I actually found it very static as I had to wait for it to update and it felt very much that it was in control and not me. I was surprised that I missed having to scan to update my glucose reading, but now realised that Libre 2 does empower me in that way, unlike a G7.
Loosing connection
This was proven when I left my phone for a short period only going upstairs at home, and it lost signal. It took 4 or 5 minutes to reconnect itself, unlike using Libre 2, there was nothing I could do but wait. For me, I felt this was a significant negative to using the G7.
Pump integration
Updated February 2023
integration with pumps isn't yet available. However, the CEO of Dexcom has publicly stated that integration with tandem is on course for Autumn 2023 and with Insulet for early 2024.
Overall
The positives
✅        One-piece applicator is more ergonomically designed for ease of use and application is smooth. I really didn't feel a thing when attaching the sensor.
✅        Quick warmup. Countdown starts from attachment on to arm as this breaks a magnetic seal and when paired the time is already counting down. For me I only waited 6 minutes after pairing (scanning the code on the sensor with my phone).
✅        The app screen is easy to read and use. It's nicely designed with a modern-feeling.
The negatives
❌         Although slightly smaller than the Libre 2 sensor, the underlay covers a much larger area and is more noticeable on the skin and obvious as being a medical product.
❌        The sensor came off after just 2 days. adhesion did not seem strong as it was knocked but seemed to very easily come off – completely.
❌         We could not initiate the G7 Follow app as the invitation sent but no link was established for a follower to see glucose levels.
❌         G7 app lacked report detail and options available with FreeStyle Libre.
The unknown
❓        Will Dexcom be as generous with replacing sensors knocked off. I know from Facebook forums that there's an expectation that Abbott will replace sensors where it's not really their fault - and sometimes with only a few hours remaining before expiry, so it remains to be seen if Dexcom have a similar policy.
❓      The integration of the G7 with a watch is yet to be available. This is of particular interest to many T1s and other CGM users, whereby levels are shown independently of a phone or reader. This feature could certainly help to tip the balance in favour of the G7 over other other CGM options. If, and hopefully when, this becomes available, I expect G7 will become the CGM of 1st choice by many users.
❓        G7 is not yet compatible for looping but this is planned. It's not known when it will become available.
 _____
At the moment, I think it's unlikely that I'll be exchanging my Libre 2 sensor for a Dexcom G7 and in fact I am undecided on the benefits for me of real-time CGM.
There are some PWD who feel that they need to keep up-to-date with the latest medtech and that this will help them to better manage their diabetes. However, my thought is that it feels in several ways that Dexcom is still catching up with FreeStyle Libre. The application is now on par with the Libre, with the extra step of 'pairing' necessary. In terms of size it's very similar looking, whilst it's worth bearing in mind that Libre 3 is significantly smaller. And accuracy seemed similar too, from my experience. The alarms had potential with more options than I'm used to, but were more annoying than helpful, and as is repeated by many, ended up being turned off.
An often quoted phase is that 'diabetes doesn't define me'. Well, as we move to more automations telling us what to do, the use of a real-time CGM only adds to this direction and the constant watching and waiting for levels to change, or not, feels like I am subservient to the CGM.
I loved my Libre from the get go and the feeling of empowerment it gave me with the ability to scan whenever I choose. For now, I'll be staying with my first love!
***
Thank you for reading. Please do submit comments below if you have any useful feedback on the use of this product. 
***
Disclaimer
Details and data is correct to the best of the author's knowledge at the time this blog is published. We do not accept responsibility for any errors or omissions. Information is for guidance only and it is recommended that you confirm specific details and suitability yourself with the supplier, or your healthcare provider. 
Love My Libre is not associated or affiliated with any of the aforementioned medtech providers. Content here and on our website www.lovemylibre.com does not constitute medical advice or replace the relationship between you and healthcare professionals nor the advice you receive from them.
The author of this blog has type 1 diabetes and uses the FreeStyle Libre 2 which is provided on NHS prescription. We do not have any affiliate relationship with Abbott or FreeStyle Libre.
All third party devices and apps mentioned are registered trademarks of their respective owners. Images sourced from Dexcom Inc.