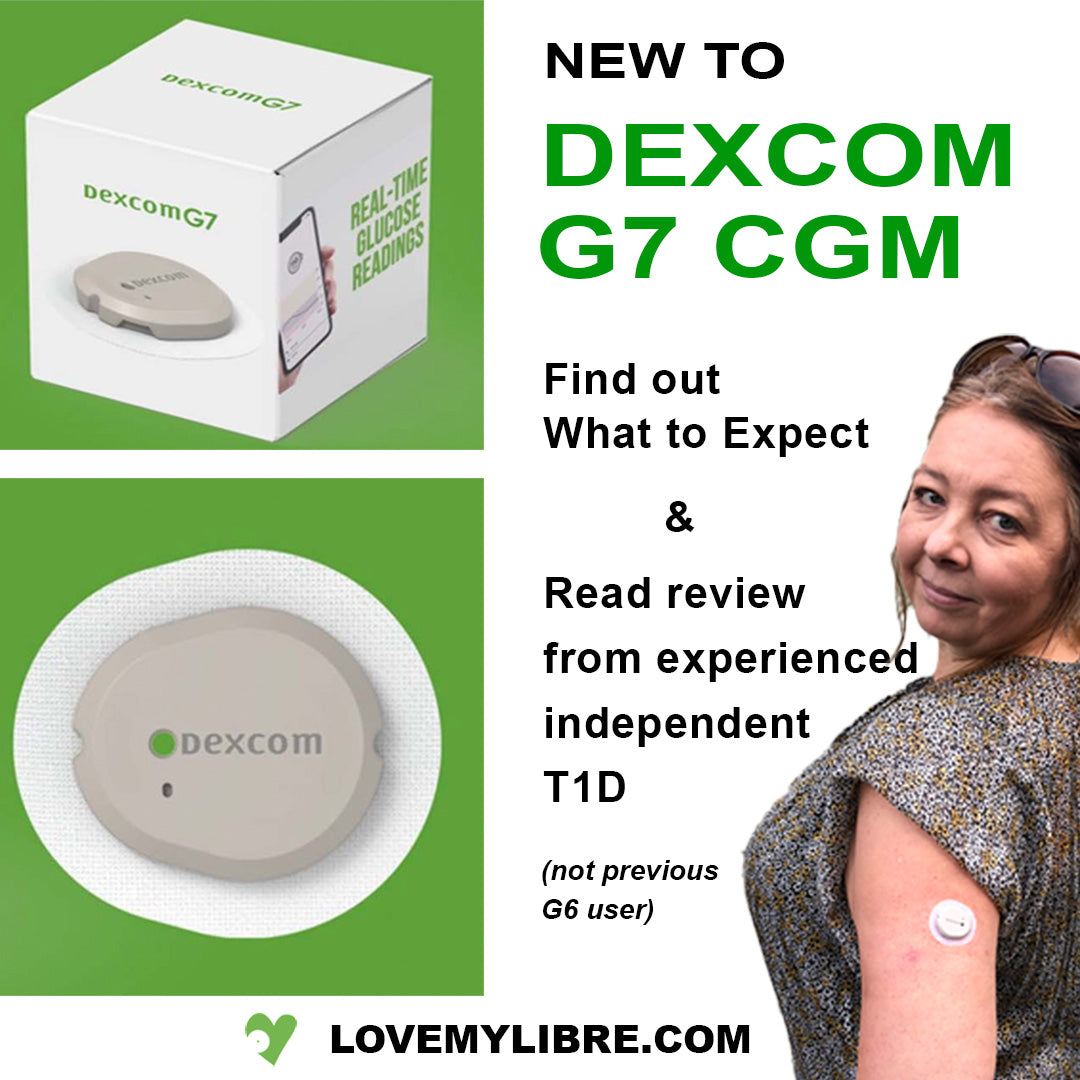 Blogs and publications on this website are independent of any involvement by medtech companies or diabetes related charities. To ensure there is no bias, we do not accept any products, freebies or other material from any medtech provider. All materials are copyright
©️

Love My Libre Ltd.
***
Updated 16th February 2023
THE NEW CGM FEATURES OF DEXCOM G7
The next-generation CGM from Dexcom - G7 - is now available in the UK, Ireland, Germany, Austria and Hong Kong.
G7 launches in the US on 17th February 2023.
Here we take a look at the key features.
You may also be interested to read our blog: My 48 hours wearing a Dexcom G7 CGM. click here
SIZE AND SHAPE
The new form of the G7 is not just a upgrade from the G6, but a completely new model. The size of the sensor and transmitter is 60% smaller than the G6, and yes, the sensor and transmitter for the G7 is one piece combined so there's no separate transmitter, eliminating the need to replace these separately. A good move in terms of being more eco-friendly.
The new shape is a shift away from the previous lozenge-shaped Dexcom sensors and although not exactly circular, it is much more similar to a FreeStyle Libre which may encourage Libre users to switch as there is some familiarity to the appearance of the Dexcom G7. 
As you can see the sensor is smaller and slimmer, very similar in size to Libre 1 and 2.The slimmer profile means that it should sit well on the skin with less likelihood of knocks, although underlay is still needed to ensure it adheres to the skin.
It's not yet known if the adhesive has been changed or modified.
WARM-UP TIME
A huge plus to the new-generation CGM is that Dexcom have reduced the warm-up time before the sensor starts generating readings of glucose levels and such data. For the G7 it is just 30 minutes, down from 2 hours for the G6.
Dexcom are marketing this as the fastest cgm warm-up time on the market and it certainly compares favourably to FreeStyle Libre, currently its main rival for T1Ds using a sensor.
APPLICATION
The application process for the G7 has been much simplified and as there isn't a separate transmitter. It is attached in a very similar way to a Libre, with a one-piece applicator making it much more user-friendly. And it can now be worn on the upper arm as well as abdomen.
There is also a 12-hour grace period to replace finished sensors for a more seamless transition between sensors.
NEW ALGORITHM
Dexcom state that they have learned a lot from user's experience and feedback and one way this has fed back into the software development for G7 is the redesigned mobile App. The app has been simplified and has Dexcom Clarity integration.
Information on trends over a longer period of time will be available in the app, with the ability for users to see their time in range for some period of time, as well as other data.Other improvements include changes to alert settings.
Overall, it should feel fresh, with more useful data and be more intuitive to use.
NEW API
Dexcom, unlike FreeStyle Libre, has the option for 3rd party developers to connect to its data and integrate it into their digital health apps and devices. This is done through the Dexcom Partner Web Application Programming Interfaces (API) and enables users to see their health data in one place.
This data used to have a 3 hour time-lag, however, with the new G7 app all data will be available to 3rd parties in real-time.
Garmin are one such 3rd party that use Dexcom data to integrate with their own app. And others are set to follow. It's highly likely that this part of Dexcom's business will see huge growth as many business look to make use of CGM data. Watch this space! 
Dexcom have also taken the opportunity to review their bluetooth connectivity which has been upgraded and the G7 has enhanced cybersecurity. 
ACCURACY
The most recent trial carried out by Dexcom involving 308 participlants, over 80% with Type 1 diabetes, found that the G7's mean absolute relative difference (MARD) was 8.2% for adults and 8.1% for paediatric patients. This is an improvement on G6 and there's an improvement in day 1 readings too, so better accuracy can be expected.
Note, however this is not as accurate as the FreeStyle Libre 3 which currently has a published MARD of 7.9%. However, a new version of the Dexcom G7 has been released in Germany with improved accuracy. Dexcom have stated that this newer version will rollout in all markets in the future.
💛💛💛
ALARMS
The alarms for Dexcom G7 are similar to those available on the G6 put with options for additional customisation. There is a "silence all" alarm that can be set for no interruptions for up to 6 hours. However, this feature will not be available at launch in the US, due to FDA patient safety concerns, but it is hoped this will be added back in to the functionality at a future software release.
💛

💛

💛
COST
The G7 will launch in the US covered under Medicare - as eported here.
The price for self-funding the G7 in the UK is £51.25 per sensor which as it only lasts 10 days makes it still a more expensive option than other CGMs. However, as a transmitter isn't needed its overall value has improved from the G6.
For UK customers, orders can be placed directly on the Dexcom website with postage costing an additional £4.99, but delivery is quick and my first order arrived within 24 hours.
💛

💛

💛
OTHER FEATURES
The most desirable and so eagerly awaited feature that Dexcom data is directly sent to a watch (in particular Apple smartwatches ) - without a phone being nearby - is still a little way off, but has been confirmed by Dexcom's CEO as a feature coming. Dexcom state that this capability is an 'anticipated future software release' so it sounds as if an update will become available at some point for this to happen.  
Another point to note is that the sensor is approved for ages 2 years old and older and there is a redesigned optional receiver that is smaller, with a more vibrant, easier to read display.
PUMP INTEGRATION
Updated February 2023
integration with pumps isn't yet available. However, the CEO of Dexcom has publicly stated that integration with tandem is on course for Autumn 2023 and with Insulet for early 2024.
COMPARISON WITH FREESTYLE LIBRE
The obvious comparison of a Dexcom G7 is with a FreeStyle Libre and Abbott are currently in the process of rolling out Libre 3 in Europe. So, when it comes to a choice of CGM this is likely to be where users will be looking at the key differences between the two.
The stand-out features for the Dexcom G7 seem to be:
1. A quick warm-up of 30 minutes
2. A grace period of 12 hours meaning seamless change of sensor at a time convenient to the user.
2. The App with user-focussed data and flexibility
3. The potential use of APIs for integration with other apps
4. The potential for glucose reading direct to Apple Watch (not yet launched). This is a very sought after feature and will be very popular with T1s.
FUTURE PLANS
Although it's too early to speculate about any developments for a G8, its worth mentioning that the G7 is still only has a 10 day lifespan. Whether this is changed remains to be seen, but market pressure may play a part as other CGMs move to longer durations, for example, Sensonics have a new 6 month implantable sensor coming out soon. Eversense, and if this is well-received it could pave the way for the likes of Dexcom to review their strategy in this regard.
Business Analysts have commented that the features of the G7, such as improved accuracy and a smaller footprint, will "allow Dexcom to compete more effectively, especially in the Type 2 market."
But, the real future for CGM isn't necessarily diabetes-related at all. CGMs are already being worn by athletes and sports enthusiasts and as health data becomes more of a commodity, their use and popularity is almost certain to grow. Health wearables will be seen everywhere and Dexcom G7 is perhaps only another stage in this evolution. 
Notes
Information and data contained in this blog is based on details available in the UK at the time of publication. If you are based in another country you should check the specific information and data available in your country.
Disclaimer
Content here and on our website www.lovemylibre.com does not constitute medical advice or replace the relationship between you and healthcare professionals nor the advice you receive from them.
The author of this blog has type 1 diabetes and uses the FreeStyle Libre 2 which is provided on NHS prescription. We do not have any affiliate relationship with Abbott FreeStyle Libre, Dexcom Inc. or Garmin. All trademarks are the intellectual property of their respective owners.