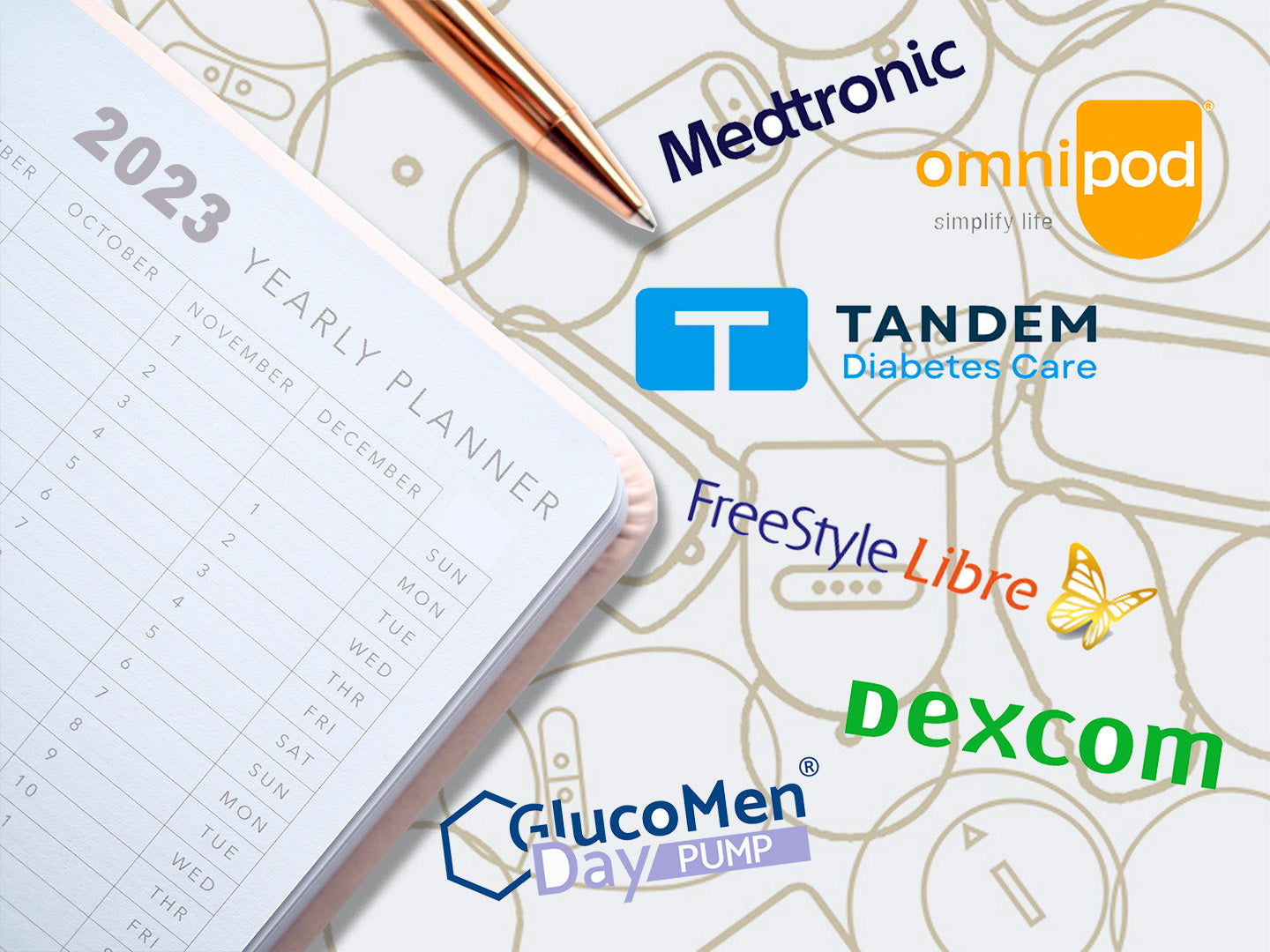 Blogs and publications on this website are independent of any involvement by medtech companies or diabetes related charities. To ensure there is no bias, we do not accept any products, freebies or other material from any medtech provider. All materials are copyright
©️

Love My Libre Ltd.

It's not an understatement to expect 2023 to be a huge year for the medtech industry as it thrusts ahead with product launches globally, not only for diabetes management, but expanding the use of cgm in other markets too.
In this quick blog we will give you an update on some of the expected product launches and new medtech that we could see from the key Medtech companies this year.
Medtronic
www.medtronic-diabetes.com
Medtronic's MiniMed 780G is now available in over 60 countries, and plans for 2023 include making it available in new countries globally.
The number 1 medtech company are also committed to increasing access to their extended Infusion set. This can double the wear time of an infusion set with a Medtronic pump to up to 7 days.
Simplera CGM
In the pipeline, Medtronic have the Simplera CGM, their next-generation sensor. It is a disposable CGM that follows the stying of FreeStyle Libre, being easy to apply and half the size of a Guardian 4 sensor (but similar to Libre 2, not the newest Libre 3 sensor.
Although ready to be submitted to the FDA in the US and for CE approval in Europe, Medtronic have not yet submitted the Simplera as their priority is currently to clear hurdles encountered with the 780G/Guardian 4. So, it may not appear on the market in 2023.
Tandem Diabetes Care   
www.tandemdiabetes.com
Tandem, manufacturer of the t:slim X2, have revealed their ambitious goal to reach 1 million users by 2027, up from 400,000 users last quarter, by expanding to PWD with type 2 diabetes.
This year's plans for Tandem include the rollout of Mobi, suggested to be the world's smallest pump (around half the size of the t:slim X2), with no screen but still a tube pump. This was originally called the t:sport and it will have full control for bolusing from a smartphone.
An update to the X2 is expected too - t:slim X3.
Sigi patch pump
Tandem have also recently taken over AMF Medical, a small Swiss medTech company, who are developing a rechargeable patch pump. The pump, called Sigi™, isn't yet approved for sale commercially, but appears to be another tubeless option for type 1 "pumpers".
Read the press release here (external link).
GlucoMen Day   
www.glucomen.co.uk
GlucoMen Day are also set to launch a patch pump for delivering insulin through a tubeless device. This looks nearer to launch than the Sigi pump (see above) and again will be offering an alternative to Insulet's Omnipod.  
Competition in patch pumps appears to be 'hotting up' as medtech manufacturers' target this expanding market. The GlucoMen patch pump has a rounded shape and is similar in size to the Omnipod. Its price hasn't yet been released.
Dexcom   
www.dexcom.com
Dexcom are focussed on the continued rollout of G7 and we expect this CGM to be launched in more countries across Europe in 2023.
It's been confirmed by Dexcom that the G7 will launch in the US on 17 February 2023.
Insulet   
www.omnipod.com 
Omnipod use in the US is growing quickly and the company say they will be focussed on this together with launching the product in a European country in mid-2023. It's not yet known where, although we don't think it will be in the UK as a 'deal' has yet to be done with the NHS.
Insulet also intend to launch a pivotal trial for a Type 2 indication for Omnipod 5 this year.
Abbott/FreeStyle Libre  
www.freestylelibre.co.uk (in the UK)
Freestyle Libre 3 is now available in 11 countries across Europe and the US and Abbott recently announced that it works with the myLife Loop automated delivery system in Germany. It is expected that this will be expanded to other European countries throughout the course of 2023.
It is also known that Abbott are developing a combined CGM that can monitor glucose and ketone levels with the same sensor. This will be the same size as the Libre 3. The press release is available here.
MedTech Regulation Plans
Advances in Medtech for glucose monitoring and the use of wearable sensors has pushed health apps to the top of the pile for priority in regulation. The FDA in the US are now looking at new ways to speed up the approval process whilst ensuring the safety of devices.
The proliferation of products and apps in the Medtech sector has meant a rethink by the FDA of the traditional method of submission, recognising the need to be much more agile as a response to both the rapid rise in Medtech product innovation and crucially, enabling products that improve quality of life to reach end users quickly.
Meanwhile in Europe, the expected Medical Device Regulation has been delayed and may now not be in force until 2027, rather than 2024.
Investment in Medtech
With the growth in popularity of wearables for health monitoring in general, as well as diabetes management, it's worth mentioning that investment in the medtech industry in 2023 looks to be focussing on further development of wearables, shifting away from robotics as previously.
Disclaimer
Information and data contained in this blog is based on details available in the UK at the time of publication. If you are based in another country you should check the specific information and data available in your country.
Content here and on our website www.lovemylibre.com does not constitute medical advice or replace the relationship between you and healthcare professionals nor the advice you receive from them.
The author of this blog has type 1 diabetes and uses the FreeStyle Libre 2 which is provided on NHS prescription. We do not have any affiliate relationship with Abbott FreeStyle Libre or other 3rd party mentioned here. All trademarks are the intellectual property of their respective owners.