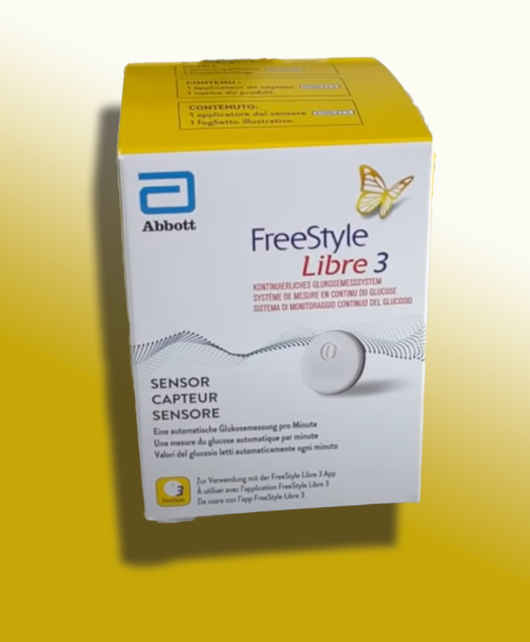 Blogs and publications on this website are independent of any involvement by medtech companies or diabetes related charities. To ensure there is no bias, we do not accept any products, freebies or other material from any medtech provider. All materials are copyright
©️

Love My Libre Ltd.
***
Updated 6th December 2022
Libre 3 is now available (subject to certain criteria) and we can now give answers to 15 key questions about Libre 3! 
1. WHEN WILL LIBRE 3 BE AVAILABLE?
Libre 3 is now available in some European countries but it is not yet widely available in the UK - it is not listed on the UK website so is not possible to buy this as a self-funded product.
It is not on prescription either, but can be supplied from a healthcare professional in hospital consultation though the criteria to qualify are the same as for a pump or Dexcom G6 etc. The diabetes team/Consultant have to apply for the funding of the Libre 3 and then the sensors are sent directly from Abbott although an initial supply may also be provided by the hospital. 
Libre 3 is not available directly from a GP as there is no mechanism for payment to pharmacies. This can be misleading on certain forums but all Libre 3 users must be using this through their diabetes hospital team (ie Integrated Care System).
There is currently no information when we could see the Libre 3 in pharmacies.
2. HOW DOES IT COMPARE?
The most noticeable feature of Libre 3 is its slimmer profile as it is 71% smaller than Libre 1 and 2 in terms of volume. Visually it compares to two stacked pennies, appearing more discrete.
Being smaller it will be less prominent when worn on the arm and can easily be worn under clothing and so avoid attracting negative comments, or being confused with other objects or uses. However, users have noticed that whilst this firstly seems advantageous they have had concerns that it is more likely to be knocked and the adhesion seems less secure as it has a reduced surface area to keep it in place.
3. IS LIBRE 3 A CGM?
The good news is that Libre 3 is a true continuous glucose monitor (CGM), and no longer just a flash device. The system gives users real-time glucose level readings meaning that levels are sent every minute to a smartphone and you see these directly on a graph on your phone. You can also see the levels on an Apple Watch, though not a graph.
4. DO I NEED TO SCAN?
With Libre 3 you scan your arm with a compatible smartphone to initiate the sensor as with Libre 1 and 2. However, you no longer scan to get a reading as these are continuously updated to the app on your phone. 
There is no Reader for Libre 3 and Abbott are not producing one so Libre 3
will only work with a compatible phone. Currently there is only an app for iphones although an app for android phones is expected to follow soon. Compatible phones are currently iphone 7 and newer models.
Note: Libre 3 uses NFC to initiate the sensor with the phone and bluetooth is used to transmit glucose levels directly to this device.
5. IS THERE A NEW APP?
The LibreLink App has been refreshed and has to be downloaded from the Apple store. The menu of reports and functionality is largely the same ie. it shows time in range, estimated A1C and sensor usage etc. The main difference is that the graph updates every minute with real-time glucose levels - there is no time lag!
However, the app depends on the sensor being close to your phone to maintain connectivity and when there is no signal then you will not see updates to your glucose levels until it connects again - you can't scan!
6. HOW IS LIBRE 3 APPLIED?
The Libre 3 has a new one-piece applicator which differs from Libre 1 and 2. The applicator is alrady loaded with the needle ie. you do not need to push the 2 parts together. 
To attach the sensor you unscrew the cap on the applicator and holding it in place on the upper arm press firmly. ThIs change means that Libre 3 has an easier method for attaching the sensor and reduces the amount of plastic used for the product.
As now with Libre 1 nd 2 there are no alcohol wipes included in the Libre 3 box.
7. WILL LIBRE 3 STICK?
It is not known if the adhesive used for Libre 3 is different to Libre 1 or 2. Users in Germany have not commented on any issues with sensitivity of the adhesive. However, there has been some concern that the small size of the sensor means that it is forgotton and more prone to being caught on objects eg. sofas or bags. It is also suggested that adhesion of the sensor may be adversely affected when hot or sweating etc.
8. CAN I WEAR LIBRE 3 ANYWHERE ELSE?
The back of the upper arm is still the only position that Libre is approved to be placed. Although many users postion their sensor in alternative areas of the body you will need to put it in the approved position if relying on glucose readings from the sensor for driving (in the UK).
9. ARE THERE ALARMS?
The same alarm options as available on the Libre 2 will be available with Libre 3 and as there's no scanning the alarms should relate to real-time levels shown on the phone. The advantage here is that this should allow for anticipating falling or rising levels and give users time to take appropiate steps before alarms sound.
There is also a new critical low alert.
10. WHAT ABOUT FOLLOWERS?
Unfortunately, we don't yet know if Libre 3 will have the capability for caregivers to follow users glucose values in real-time. No compatible app is currently listed with the German instructions for Libre 3, but there's no reason to think this feature won't be available in due course.
Libre 3 provides updates to healthcare professionals via LibreView, as with Libre 1 and 2.
11. IS LIBRE 3 ACCURATE?
In June 2022 Abbott announced that clinical data demonstrated that Libre 3 has an overall mean absolute relative difference (MARD) of 7.9%, making it the first and only 14-day continuous glucose monitoring (CGM) system to achieve a sub-8% overall MARD.
 Libre 3 still requires a warm-up of period of 60 minutes and may be not as accurate for the first 1 or 2 days but as glucose levels are shown in real-time users should see a closer correlation to finger prick tests.
13. HOW DOES LIBRE 3 ADDRESS SUSTAINABILITY?
The reduced application process for the Libre results in a 41% reduction in plastic used in the production process and a 43% reduction in carton paper due to the smaller box in which the Libre 3 is packaged. 
12. WHAT WILL BE THE COST?
In the EU (e.g. Germany) Libre 3 is currently €59, retaining a competitive advantage over Dexcom.
No doubt this will be welcomed by many users and is a step-up by Abbott but it does not address the lack of a proper system to recycle materials, which is left to the end-user and varies depending on local council facilities and policies.
14. WILL I STILL NEED A THIRD PARTY TRANSMITTER?
To receive real-time data on your phone or Apple watch you won't need a third party product such as MiaoMiao, Bubble or BluCon NightRider and their associated apps. These products - which are unapproved as medical devices- may still offer some features that enhance the usability of a Libre, but essentially they will no longer be necessary for operating a Libre as a full CGM.
15. WHAT ABOUT PUMPS AND CLOSED LOOPS?
It's known that Abbott have been working towards integrating the Libre with Automated Insulin Delivery Systems so although unlikely to be available at launch we can expect news on the options with Tandem and Insulet in 2022.
Disclaimer:
Love My Libre is not associated or affiliated with Abbott or FreeStyle Libre. Content here and on our website www.lovemylibre.com does not constitute medical advice or replace the relationship between you and healthcare professionals nor the advice you receive from them.
The author of this blog has type 1 diabetes and uses the FreeStyle Libre 2 which is provided on NHS prescription.
 ________________
[1] FreeStyle Libre and associated product names are registered trademarks of Abbott Diabetes Care Inc.