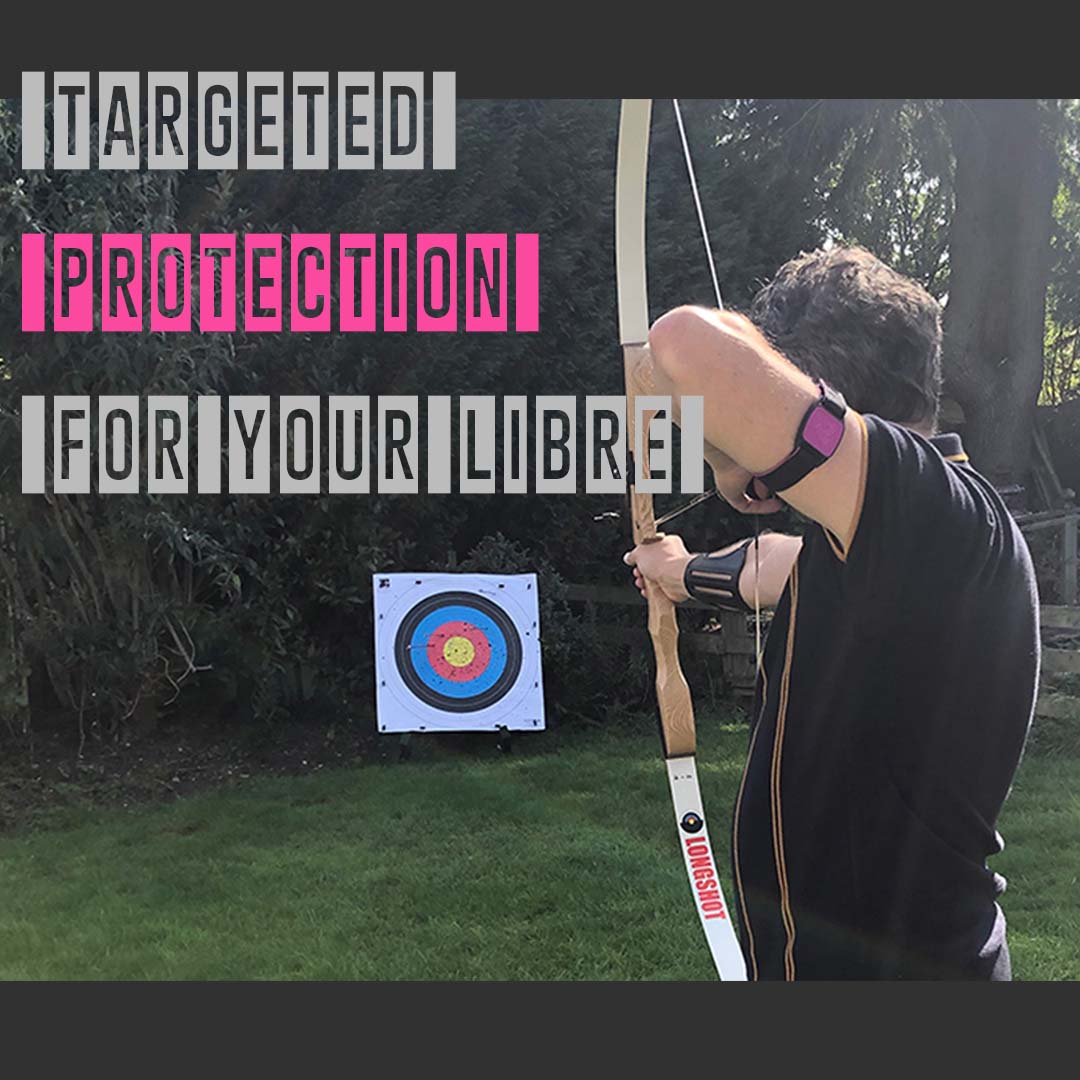 Blogs and publications on this website are independent of any involvement by medtech companies or diabetes related charities. To ensure there is no bias, we do not accept any products, freebies or other material from any medtech provider. All materials are copyright
©️

Love My Libre Ltd.
***
SPORTS STYLE FOR LIBRE SENSOR WEARERS
For many with diabetes, FreeStyle Libre sensors are game-changing. But, they're also prone to being knocked and falling off. Sensors do tend to love doorframes, bras, bags and seatbelts!
And MedTech is expensive. Plus, replacing sensors also cost in terms of inconvenience.
Having experienced these problems myself, I looked for solutions that would not only protect my sensor but would also look good too. This is how, back in 2018, we founded Love My Libre.
The design of our products is based on two key factors. Giving users better protection when wearing their sensor and transforming it from a medical device to sports accessory.
💛💛💛
Protection with a Libreband
Our armbands – termed Librebands® - are designed and engineered specifically to provide protection from accidental knocks when wearing the Freestyle Libre out and about and when playing sports, exercising or swimming.
In fact, they're very much an everyday essential.
We are very fortunate to have received many positive comments from customers about how wearing the armband makes them less self-conscious and actually gives them confidence.
All the elements of the Libreband have been designed to ensure comfort with a high specification in the materials used, attending to every detail, even when not evident to the wearer.
The armband strap is made from soft neoprene which is water-resistant and sweat-wicking so allowing the skin to 'breathe' and letting moisture escape.
Librebands are made to adjust to suit an individual's comfort with adjustable sizing secured with Velcro®.The armbands can be used repeatedly time and time again, unlike stickers and patches.
Protection when swimming
Librebands are particularly suitable if you're a swimmer. They are used by many swimmers who swim for extended periods of time, whether in a swimming pool, open water or the sea. Customers have also worn them for a variety of water-based activities such as water rides and hot tubs.
A key advantage of using an armband in water is that they protect sensors from the friction of water and being able to remove the armband means that water is less likely to accumulate underneath the sensor's adhesive, which can be a cause of them coming off and irritation too. In addition, this allows the skin to 'breathe'. And they dry quickly too.
The neoprene strap makes Librebands much more comfortable than straps made of elastic, so they can be worn for longer periods. Many customers tell us that use them for everyday wear and often forget they are wearing an armband.
Librebands have been extensively tested for durability in a variety of situations including at a water park, in a sauna and whilst participating in a wide range of gym classes, from yoga to more hard-core body combat. Previous customers include a competitive swimmer and several triatheletes!
Libreband style
Librebands are available in a range of colours intended to match in with current trends in sports and lounge wear. The faceplate designs allow wearers to make a positive statement about their condition, and the straps are individually edged to complement the design. All production and assembly is carried out in the UK.
How does Libreband compare?
See how Librebands compare with stickers and patches:
Where to buy a Libreband
Libreband is only available from Love My Libre® Ltd on our website www.lovemylibrecom
We do not sell through any other platform and we are not available on Amazon.
Love My Libre products are unique and produced and manufactured by us. These are not drop shipped from any third party supplier, distributor or manufacturer.
Further information
We have received many positive comments from customers and you can see some of these on our review page. Click here.
If you have any questions about our Librebands, you can check our FAQ page here or email us: hello@lovemylibre.co.uk
💛💛💛
Disclaimer
This is not an endorsement of FreeStyle Libre[1] or Abbott. The author has type 1 diabetes and uses the FreeStyle Libre 2 which is prescribed by the NHS.
[1] FreeStyle Libre is a registered trademark of Abbott Diabetes Care Inc.