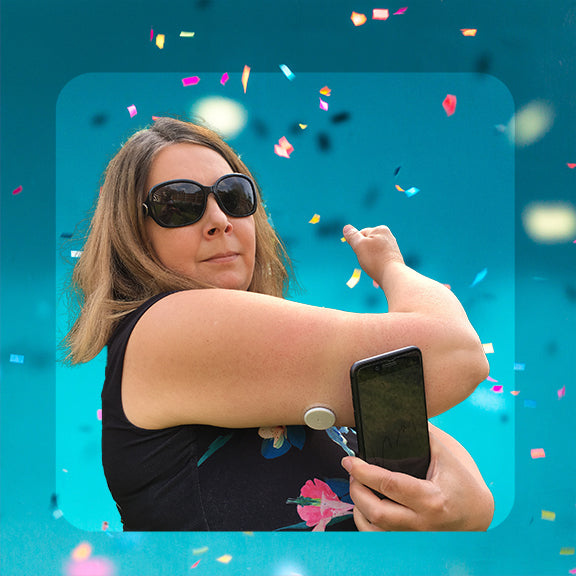 This blog looks at whether there are any positives to type 1 diabetes management and wearing a Libre (or other type of) sensor. I'm not talking about the medical benefits, whether we're entitled to a blue badge or any financial payments that can be claimed, but the small 'wins' we can personally take from managing an autoimmune disease!
I'm firstly looking back at how I first got the Libre sensor, and I know many of you also started at this point too.
Dafne et al.
If you had to complete a Dafne (Dose Adjusting For Normal Eating) course or online learning in order to be 'approved' for a Libre sensor then the chances are that you connected with other type 1s. Even if not forming friendships, it can be insightful to hear others' stories of their type 1 diagnosis and management of their condition - amongst other things. Sometimes having diabetes can make us feel lonely and its difficult for those without this condition to know where you're coming from at times!  And, if you didn't attend an in-person course then there's still the learning that you get from participation in what's referred to by the healthcare profession as 'structured education'. Hopefully through this you picked up some valuable type one management strategies, key information on using a Libre sensor and improved your medical knowledge of diabetes.
And if you didn't do Dafne or are interested in further education in this area, some of these resources are listed at the end of the blog.
Knowledge is (em)power
At initial diagnosis it's a natural reaction to want to know more about the condition and what it means to have type 1 diabetes and as is so often the case, much information can be, and often is, gleaned from 'Google'. But, in the rush for information it can appear difficult to get answers to specific questions and whether the details have been verified and are reliable. A good starting point when first getting a Libre sensor is the Freestyle Academy by Abbott – the manufacturer of FreeStyle Libre sensors – and they're also active on social media, responding to posts and signposting users to further resources.
Getting a sense of community
One of the 'benefits' of having diabetes is the sense of community that is out there to support those with the condition. There are numerous Facebook groups as well as charities that hold days for people with diabetes to connect with each other, there are also conferences, podcasts, art exhibitions and even a play – called Pricks[1]!
Seeing other people with sensors around can help to 'normalise' the wearing of medtech and reduce the stigma often associated with having diabetes. Diabetes UK have some local groups that enable T1s to meet up in person and you may set one up yourself from meeting others at a Dafne course or through your clinic.
Resources mentioned in this blog
Dafne & Structured Education
DAFNE                                  https://dafne.nhs.uk
BERTIE                                   https://www.bertieonline.org.uk
MyType1                               https://elearning.mytype1diabetes.nhs.uk
Digibete                                https://www.digibete.org
Hypo program                       https://www.hypoprogram.com
Low carb program                 https://www.lowcarbprogram.com
Diabetes UK (learning)           https://learningzone.diabetes.org.uk
Knowledge
FreeStyle Academy    https://progress.freestylediabetes.co.uk
Sharing
Talks, conferences
JDRF Virtual Discovery Events – UK part of charity network (https://www.youtube.com/c/JDRFOrgUk)
Community
Suggested FB groups – you will need to agree to their 'rules'
Freestyle Libre Users
Abbott Freestyle Libre users and sub-group UK users | Freestyle Libre
Libre Geeks
Dexcom and Libre rash 
There are also forums on www.diabetes.co.uk – over 328,000 people subscribe to this one! And Diabetes UK, www.forum.diabetes.org.uk/boards.
[1] See www.prickstheplay.co.uk
__________
Disclaimer
Love My Libre is not associated or affiliated with Abbott or FreeStyle Libre. Content here and on our website www.lovemylibre.com does not constitute medical advice or replace the relationship between you and healthcare professionals nor the advice you receive from them.
The author of this blog has type 1 diabetes and uses the FreeStyle Libre 2 which is provided on NHS prescription.
FreeStyle Libre is a registered trademark of Abbott Diabetes Care Inc.