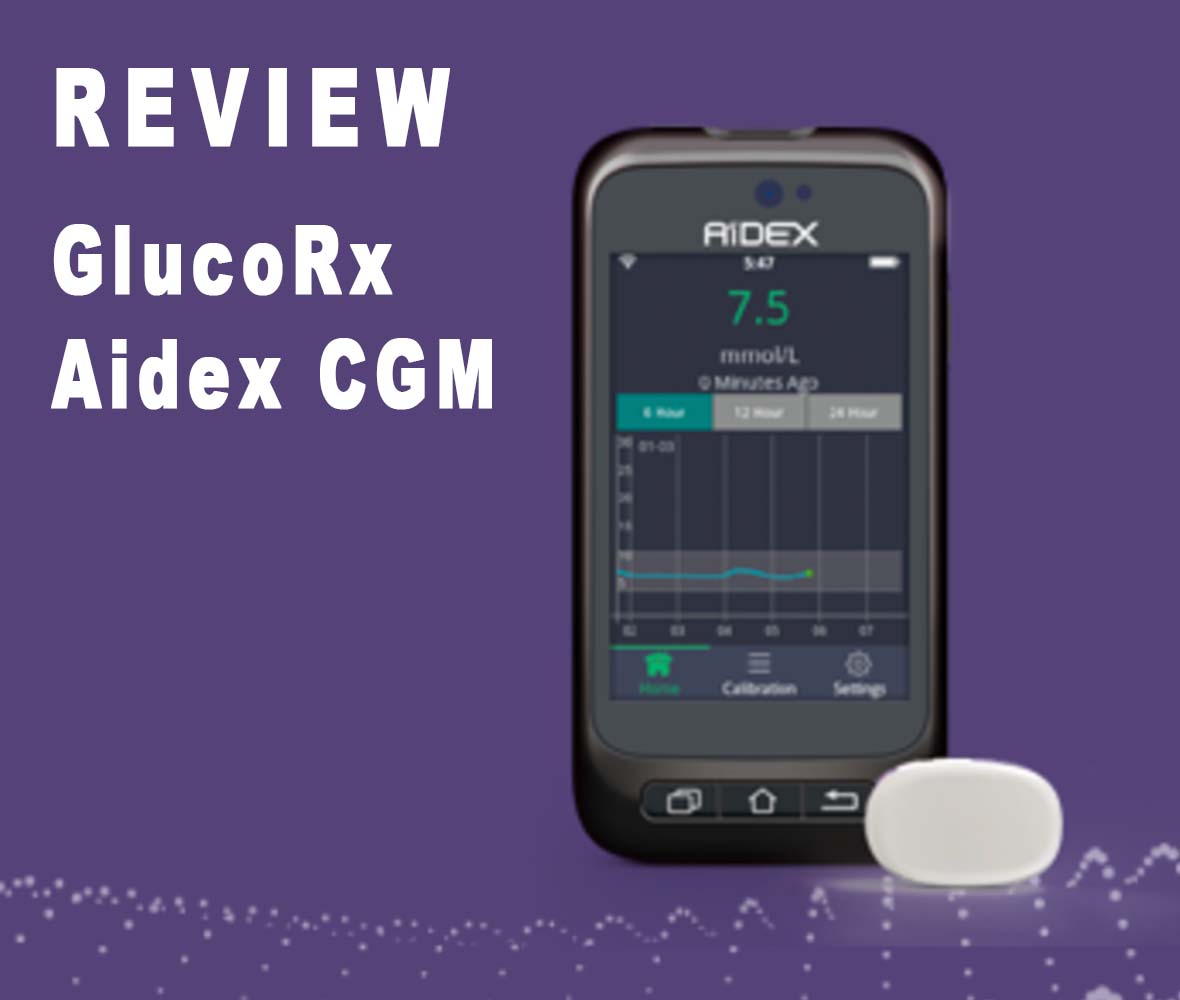 Blogs and publications on this website are independent of any involvement by medtech companies or diabetes related charities. To ensure there is no bias, we do not accept any products, freebies or other material from any medtech provider. All materials are copyright
©️

Love My Libre Ltd.
***
The GlucoRx Aidex is the latest continuous glucose monitor (CGM) to be available on prescription from the NHS.
We review the features of this new medtech and answer the question – why would I choose this CGM instead of a FreeStyle Libre? 
Background
The GlucoRx Aidex is a real-time continuous glucose monitor from GlucoRx Limited, a UK based medical supplier founded in 2010. They provide a range of diabetes related products to the NHS including blood glucose meters – Nexus – and their own brand of insulin pen needles. The GlucoRx Aidex is manufactured by MicroTech Medical (Hangzhou) Co. Ltd based in China.
Who is the GlucoRx Aidex for?
The sensor is being marketed as suitable for those with type 1 or type 2 diabetes and also 'those concerned about their wellbeing, diet, fitness', although the approved use is only for persons over the age of 14 years.  It has not been tested to be appropriate for those with gestational diabetes.
About the Sensor
This CGM has two separate parts, with a sensor that lasts for up to 14 days and a transmitter that can be recharged and lasts up to 4 years.
The overall shape when put together is rectangular with rounded corners. It measures 35mm by 21mm and sits 9mm off the surface of the skin. It is smaller than a FreeStyle Libre 1 and 2 but has a higher profile so sticks out more. It is similar in length and width to a Dexcom G6 but more symmetrical.
The approved sites are the abdomen and back of upper arms.
Application process
The sensor is applied with a one-piece applicator that is similar looking to the FreeStyle Libre applicator.
Once the sensor is attached a separate transmitter must be clipped over it and then paired with the app within 30 minutes, otherwise the sensor expires and cannot be used. There is a one-hour warm-up period before glucose levels appear directly on a phone or watch (see below).
An underlay is attached as part of the application process, and it is recommended by the manufacturer that an overlay is used to secure the CGM in place.
Swimming, Sports & Exercise
The GlucoRx Aidex has a rating of IPX7 which means that it has been tested and approved for immersion in water for up to 30 minutes and to a depth of 1 metre. [This is the same as products with IP67 rating, the difference is that the X means the product has not been tested for dust protection.] 
An overlay is recommended as moisture can get between the sensor and transmitter which may affect the adhesion of the sensor with the skin.
The operating temperature of the product is 5-40oC so is generally ok for most climates. In cold conditions it is best to cover the sensor although it should be warm enough under layers of clothes. 
Functionality of the sensor may be affected in hot environments such as a spa, sauna or hot tub.
Integration with phone/smartwatch
The GlucoRx AiDEX App can be downloaded from the App Store (iOS) or Google Play (Android). There is a list of compatible phones on the company's website.
Bluetooth is required for pairing the transmitter and sensor with the app, without this it won't be possible to receive CGM data. 
Glucose levels are updated every 5 minutes.
Alarms and alerts
Users can set high glucose alerts, low glucose alerts and urgent low alerts on the GlucoRx Aidex app. High glucose alerts and low glucose alerts appear as pop-up notifications and will appear when levels are changing by + or – 0.1mmol/L per minute. As. With other CGM and flash monitors, users should check glucose levels by finger prick test when low or high.
Alerts can be disabled on the GlucoRx Aidex app.
Reports & accuracy
The MARD* for GlucoRx Aidex is stated as 9.08% which is a good result. This was established through clinical trials with persons with type 1 and type 2 diabetes although this did not include anyone with gestational diabetes. This compares well with FreeStyle Libre 2, with a MARD of 9.2%, and Dexcom G6, which has a MARD of 9.0%.
*MARD is mean absolute relative difference and is used as a statistical measure of CGM accuracy.
Training and support
Instructions are included in starter packs and are available on the website. There are 4 basic how to video guides in the support section on the website. These are produced by GlucoRx and can also be accessed via YouTube.
As the product hasn't yet been used extensively in the UK there haven't been many independent reviews or YouTube videos produced around the use of the GlucoRx Aidex.
Customer service is 8am to 5pm Monday to Friday and although there are reports that service is not quick, these appear to be old comments and the company are now more responsive to customer concerns.
There is a freephone number for UK calls. Unfortunately, there is no online support form to report issues with a sensor, as available through the FreeStyle Libre website.
Eco-friendly
The applicator, which contains a needle, needs to be disposed of as biohazardous waste, ideally in a sharps box, although due to its size and shape it may not fit into a standard yellow sharps bin. 
The transmitter is reusable - you need to keep a note of the code on the packaging box for pairing.
Costs & how to buy
The GlucoRx can be purchased directly on the website, https://www.glucorx.co.uk.
A Starter Pack for £99.85 is currently being promoted which includes 2x14-day sensors and a reusable transmitter. Replacement sensors are priced at £39.95. All costs are plus vat if applicable. There are subscription packages available for 12, 24 and 48 week periods.
The price point of the sensor alone is comparable to the purchase of a FreeStyle Libre sensor, noting that the Libre does not require a separate transmitter.
How does it compare?
The GlucoRx Aidex can be compared to the FreeStyle Libre 1 and 2 which are currently the most popular monitoring device used by T1Ds. However, these are flash devices (ie. require scanning to get glucose levels) and not real-time CGM. A small proportion of T1s use Dexcom G6 which are real-time CGM but are considerably more costly than both GlucoRx Aidex and Freestyle Libre 1 and 2.
Dexcom have recently announced that Dexcom One will become available in the UK in May 2022 which will be a simplified version of the G6. It will be interesting to compare this to the GlucoRx Aidex as the prices are likely to be competitive.
Future outlook
The GlucoRx Aidex is not currently linked to any pump but the manufacturer has plans for a hybrid closed loop system with the GlucoRx Equil patch pump. 
Recommendation
The main advantage of the GlucoRx Aidex is that this is a real-time CGM for a similar price to a 'flash' device ie. FreeStyle Libre 1 and 2. There are clearly advantages to being able to see glucose levels every 5 minutes instead of having to scan a sensor to update the readings.
Whilst many users may not necessarily need this detailed data, many sensor wearers will want to have this option and it's particularly useful for those following a person with diabetes, especially if they have no hypo awareness. In this respect, it is a shame that the options here are limited with the GlucoRx Aidex but perhaps this will be developed at a later stage as the product is updated.
It's good to see that there is the option to position the sensor on either the abdomen or upper arms as this many Libre sensor wearers find the only option of upper arms as being too restrictive. However, a drawback for myself would be the fact that the transmitter is a separate component and again I would hope that this is an area that the manufacturer will address in future models.
Overall, the GlucoRx Aidex is comparable to the Freestyle Libre 1 and 2 in many ways – it lasts for 14 days, doesn't require calibration, is slightly smaller, has a comparable MARD and price-wise isn't significantly different if self-funding. It probably only takes a short while to get used to the application process and use of the app with the benefit of seeing glucose levels every 5 minutes.
I would consider the GlucoRx Aidex a good option for upgrading your medtech to real-time CGM.
Further information
The website for the GlucoRx Aidex isn't very user-focussed and its appearance and structure feels more like a pharmacy with an NHS website. I found it difficult to find the details about the CGM that I would want to know before making a purchase.
Key features and relevant information is covered in the FAQs which is a long list with a drop down menu. There are no closeup images of the sensor with transmitter and the photos used for promotion have clearly been 'photoshopped'.
This made it difficult to evaluate the product and compare it with other CGMs available. The following table summarises the key considerations, which I hope will help others to determine whether this is the right for them.
 CLICK HERE TO GO TO PART 2: PERSONAL EXPERIENCE REVIEW 
💛💛💛
Features overview
Size and shape

Rectangular shape with rounded corners. Measures 35mm by 21mm with height 9mm.

 

 

Duration of wear

Up to 14 days

 

 

Frequency of updates

Every 5 minutes

 

 

Accuracy ie. MARD

9.08%

 

 

Approved ages

14 years and older

 

 

Approved insertion sites

Abdomen and back of upper arms

 

 

Components/insertion method

One piece applicator for attaching sensor and separate transmitter to attach then pair with app within 30 minutes.

 

 

Start-up/Stabilisation

1 hour warm-up

 

 

Calibration

Factory calibration, but it is possible to calibrate once within 6 hours of application. It is not recommended to calibrate more than once per day.

 

 

Water-resistance

IPX7 (30 mins to 1 metre depth)

 

 

Smartphone integration

Readings can be linked to Apple watch although phone needs to be nearby. Currently no option for Android phones.

 

 

Watch integration

Glucose levels can be pushed to apple watch. Currently no link to Android.

 

 

App

GlucoRx AiDEX App on App Store (iOS) and Google Play (Android).

 

 

Data sharing

Sends email updates via GlucoRx Voyager program

 

 

Transmission distance

2 metres unobstructed

 

 

Customisable alarms

 Yes

 

 

Alerts

Alerts for high and low glucose and urgent low

Alerts pop up when levels are changing by + or – 0.1mmol/L per minute

 

 

Separate reader

No

 

 

Purchase options

A Starter Pack for £99.85 is currently being promoted which includes 2x14-day sensors and a reusable transmitter. Replacement sensors are priced at £39.95. All costs are plus vat if applicable. There are subscription packages available for 12, 24 and 48 week periods.

 

 

Other

There is the option to input data on the app which may have a bearing on glucose levels:  Insulin, Carbs, Exercise and Medicine. 
Thank you for reading. Please do submit comments below if you have any useful feedback on the use of this product. 
💛💛💛
Disclaimer
Details and data is correct to the best of the author's knowledge at the time this blog is published. We do not accept responsibility for any errors or omissions. Information is for guidance only and it is recommended that you confirm specific details and suitability yourself with the supplier, or your healthcare provider.
Love My Libre is not associated or affiliated with any of the aforementioned medtech providers. Content here and on our website www.lovemylibre.com does not constitute medical advice or replace the relationship between you and healthcare professionals nor the advice you receive from them.
The author of this blog has type 1 diabetes and uses the FreeStyle Libre 2 which is provided on NHS prescription. We do not have any affiliate relationship with Abbott or FreeStyle Libre.
All third party devices and apps mentioned are registered trademarks of their respective owners.