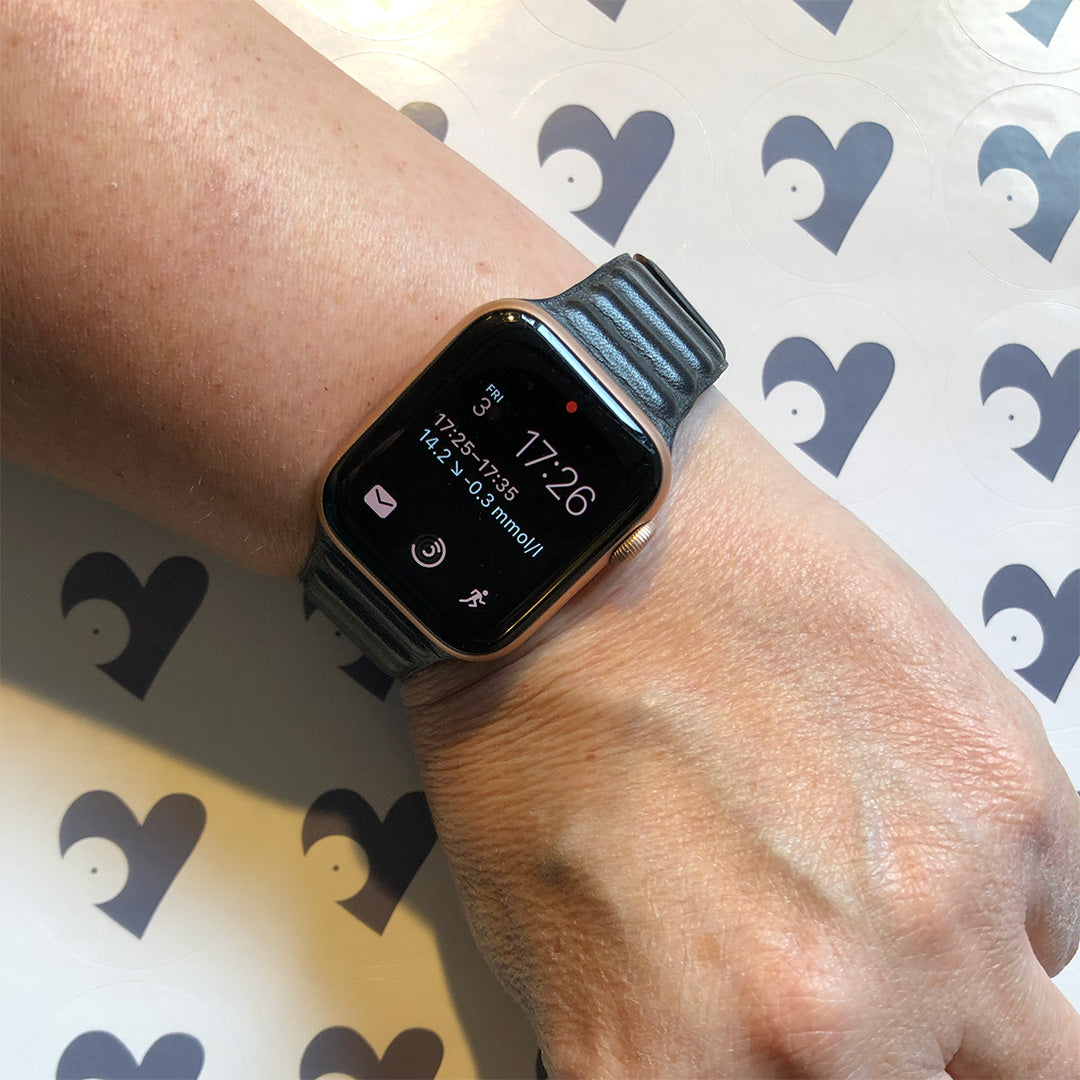 Blogs and publications on this website are independent of any involvement by medtech companies or diabetes related charities. To ensure there is no bias, we do not accept any products, freebies or other material from any medtech provider. All materials are copyright
©️

Love My Libre Ltd.
***
Many sensor wearers would like to be able to see their blood sugar levels on a watch. How to do this is one of the most frequently asked questions in online forums.
Not only would this feature be convenient for users, but also could mean a less intrusive way to see levels. It has the potential to significantly change the overall management of diabetes and some of the stigma associated with the condition. 
Officially none of the medtech manufacturers have yet launched this capability for continuous glucose monitors.
However, for those that don't want to wait for an official means to get levels on a smartwatch, there are several options where developers have 'hacked' into the data collected by a sensor and made it possible to transmit this to a smartwatch.
One of these options is a FREE app called Shuggah which works with Libre 2 sensors. It changes a sensor from being a 'flash' device into a full CGM (continuous glucose monitor) without the need for a 3rd party transmitter like MiaoMiao or Bubble. 
Shuggah enables users to see levels update every minute without scanning the sensor, and also to see these on an Apple Watch as a calendar complication.
If you're interested in seeing the benefits of full CGM, the below steps describe how to configure the Shuggah app and see levels on an Apple Watch.
It took me less than 10 minutes to get up and running!
💛

💛

💛
STEP 1:

Find the LibreLink app listed in your Apple phone settings. 

Click the arrow to go to LibreLink Settings.
STEP 2:
Slide the Bluetooth setting to off.
STEP 3: 
Search for the Shuggah app in the App Store using your phone. When Shuggah is listed, click GET and once downloaded, OPEN.
STEP 4: 
Read the detail, clicking the links to review the Terms & Conditions and Privacy Policy if desired. Then click NEXT.
💛

💛

💛
| | |
| --- | --- |
| STEP 5: | Click to agree to your data being processed - if you don't accept this you won't be able to use the app. |
| | |
| STEP 6: | To enable the app to send you notifications of levels and alarms, you need to click Allow here. |
| | |
| STEP 7:  | Click to accept the terms of the license for general use. Note, it states that using the app does not give you any warranty. |
| | |
| STEP 8:  | Read the instruction here and click OK to proceed. |
💛

💛

💛
| | |
| --- | --- |
| STEP 9: | Go to Bluetooth screen (at bottom of page) and choose CGM ie. continuous glucose monitor. |
| | |
| STEP 10: | Choose Libre 2 Direct to enable Shuggah to receive data from your Libre 2 sensor. |
| | |
| STEP 11:  | Choose Scan to proceed. |
| | |
| STEP 12:  | To start the process that links your Libre 2 sensor to the Shuggah app using Bluetooth, click OK.  |
| | |
| --- | --- |
| STEP 13: | The scanning process has now started. Leave Shuggah open as described here. Click OK. |
| | |
| STEP 14: | The information from your Libre 2 sensor will now populate on the Shuggah app. |
| | |
| STEP 15:  | A blank Home Screen can be seen prior to data being shown on the Shuggah app. |
| | |
| STEP 16:  | Check your Shuggah Settings and under Calendar Events ensure the switch is in the on position.  |
| | After a few minutes you should see your data on the phone app. |
💛

💛

💛
To see glucose levels on an Apple Watch set up the Shuggah app as a calendar complication on a modular or photo watch face. 
My use of the app
My initial reaction to seeing real-time glucose levels was 'wow' look at this data! I like the aspect of being able to glance at my levels at any time and certainly this reduces the slight trepidation I feel when I scan my sensor and wait to see the result.
Having the data updating every minute is actually quite reassuring and I feel that I'm not being 'caught out' by unexpected highs or lows so enabling me to better manage my levels. 
Although it's not necessary to scan the Libre for readings to appear on the watch or phone, I still did this regularly to ensure that a complete record of my use of the Libre sensor was uploaded to my diabetes team.
The app does not have the extensive reports available on LibreLink although limited information is shown at the bottom of the Home Screen, including time in range and estimated HbA1c.
I did find that when comparing my levels on Shuggah to Libre 2 they didn't always match, although they were usually close. On occasion there were some times when my levels on the app would rise or fall quite rapidly and these weren't reflected by the levels shown on my Libre. I understand that Libre may 'smooth' these readings through the algorithm so they're not seen by users.
For those who prefer, it is possible to calibrate the app.
My main concerns from using the app were minor. I don't think any of the 'hacks' out there or official apps have yet designed an interface that really works for the user. They're too 'techy' looking - I hate the black graph look - and the alarms sounds on Shuggah are terrible, though other apps haven't got these right in my view either.
Overall, I liked the app, but would prefer to have an approved CGM and associated app. I  hope that the official Libre 3 app is rolled out to type 1s eventually so that we can all have real-time CGM.
In the meantime, the Dexcom ONE and GlucoRx AiDEX are to be available on NHS prescription in England, both of which are real-time CGM.
Read also: What is the Dexcom ONE CGM system? and What is the GlucoRx AiDEX CGM system?
💛

💛

💛
About Shuggah app
The Shuggah app is understood to be an adapted version of xDrip4iOS (see note 4 below) which has been developed by a group of volunteers from the diabetes community. The version used for the Shuggah app is an older version than the latest release on xDrip4iOS.
Shuggah is listed on the Apple App Store as a Lifestyle app and is not an approved use of the Libre sensor by Abbott. However, being free is a big plus!
💛

💛

💛
Thank you for reading. Please do submit comments below if you have useful feedback on the use of this app. 
💛

💛

💛
Notes
These instructions and comments are based on personal experience using a sensor obtain through a UK prescription. The functionality as described may differ or not be possible in other countries.

Individuals should check the compatibility of their own smartphone and smartwatch to understand if the app will work as described. Further information is available from the app developer. See details on Apple App Store.

xDrip4iOS is only available through registration as a developer on Test Flight, with limited places allocated by the xDrip4iOS Facebook Group moderator.

It is necessary to keep the phone nearby for continuity of readings.

This app is currently only available for Apple smartwatches.

The user and those installing this app should be aware that this is not an official Abbott product. Use as such described may invalidate the manufacturer's warranties.  

Neither the author or Love My Libre Ltd endorse the use of the Shuggah app and all risks are the users own.
Disclaimer
Details and data is correct to the best of the author's knowledge at the time this blog is published. We do not accept responsibility for any errors or omissions. Information is for guidance only and it is recommended that you confirm specific details and suitability yourself with the supplier, or your healthcare provider.
Love My Libre is not associated or affiliated with any of the aforementioned medtech providers. Content here and on our website www.lovemylibre.com does not constitute medical advice or replace the relationship between you and healthcare professionals nor the advice you receive from them.
The author of this blog has type 1 diabetes and uses the FreeStyle Libre 2 which is provided on NHS prescription. We do not have any affiliate relationship with Abbott or FreeStyle Libre.
All third party devices and apps mentioned are registered trademarks of their respective owners.