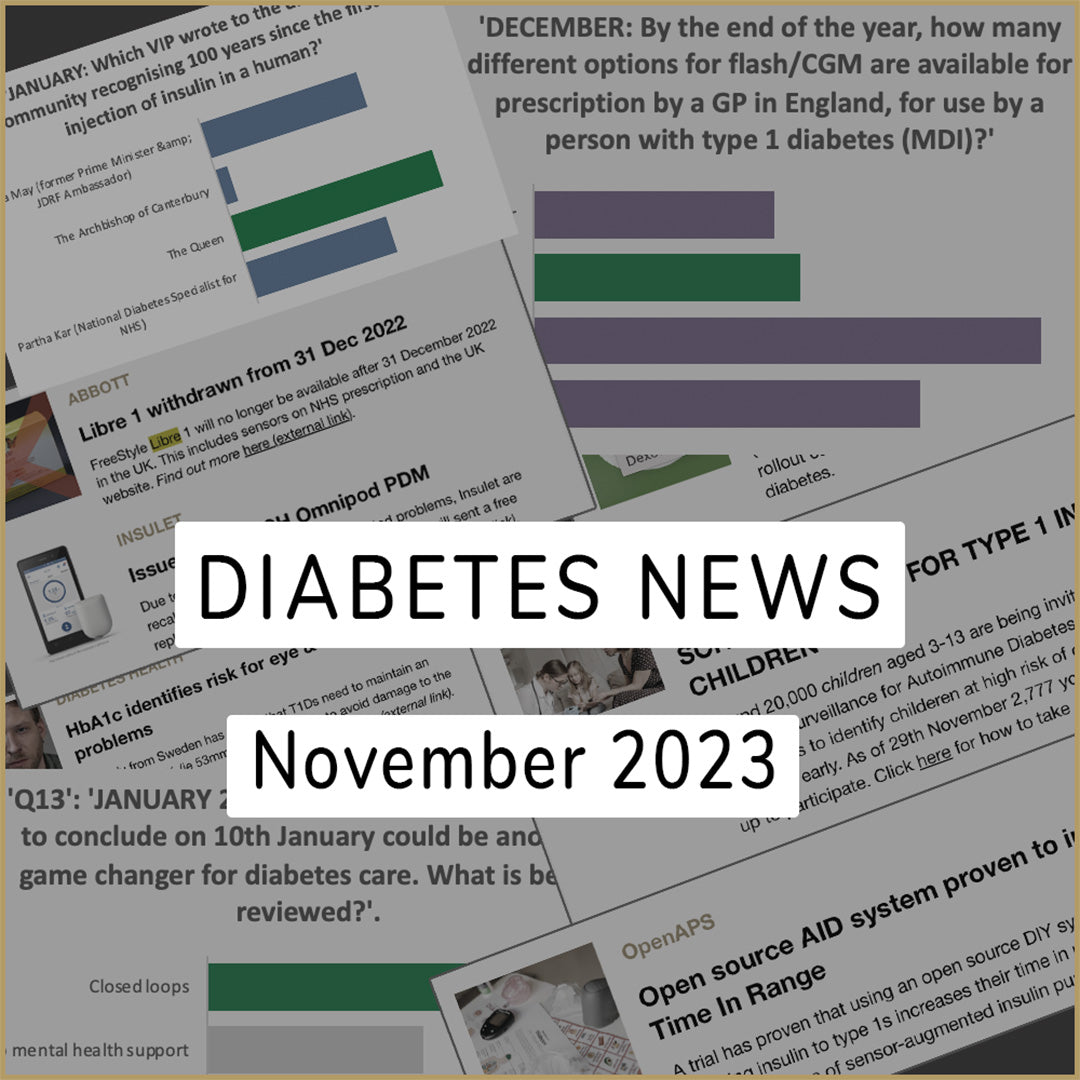 In this update we are covering the news stories from November 2023, keeping you informed whether you are managing your own diabetes or doing so as a carer.
 ***
TYPE 1 SCREENING FOR ADULTS
A research study to screen 20,000 adults for type 1 diabetes is underway following its launch on World Diabetes Day.
A team from Bristol University will be analysing blood samples from adults aged 18-70 years with the goal
to identify those who are at high risk of developing type 1 diabetes.
It is often suggested that there are over 400,000 type 1s in the UK, however data currently only has around 296,000 T1Ds being treated by the NHS.
The project, called Type 1 Diabetes Risk in Adults (T1DRA), follows a similar study for children, referred to as ELSA. 
Find out about more 
here
.
***
T1D HEALTH SECRETARY APPOINTED BY UK GOVERNMENT
The new Health Secretary appointed for UK Government in today's reshuffle (13 November 2023), Victoria Atkins has type 1 diabetes. The MP for Louth and Horncastle, in Lincolnshire, she was diagnosed at the age of 3 years, although interestingly she is married to the MD of British Sugar. We wait to see if either of these facts will have any impact on policies relating to diabetes!
***
NICE ANNOUNCES HYBRID CLOSED LOOP RECOMMENDED FOR TYPE 1s
NICE Guidelines have been updated to now include the use of hybrid closed loops for type 1 diabetes management by the NHS.
Hybrid Closed Loops - also referred to as an artificial pancreas-should benefit up to 150,000 type 1s with the rollout set to take place over the next 5 years.
All type 1s under 18 year olds will be eligible, as will all T1D pregnant women and those planning a pregnancy. For other adults, the criteria states that they must have tried to manage the condition with a cgm first, or suffer disabling hypoglycaemia and their HbA1c is 7.5% or greater.
Find out about Hybrid Closed Loops in our blog  here.
***
LATEST NHS AUDIT FIGURES RELEASED

According to theNational Diabetes Audit 2021-22 for England and Wales, published 12 October 2023, there are 270,935 people in England and 16,090 people in Wales living with type 1 diabetes. Of these, 37.4% were reported to have a HbA1c of less than 7.5%.
To see the Audit in more detail click here.
***
NEW
MuLT1verse

STORY FOR WDD
The 5th issue of the popular Type 1 series of comics from Revolve Comics in collaboration with NHS diabetes specialists from Portsmouth & Southampton, was released this month for World Diabetes Day. Issue 4 is called Secret Wards and is an adventure involving safety in hospitals for those with diabetes.
All issues are free to read online or download. Clickhere to find out more.
***
TRESIBA PEN SHORTAGE
According to the Department of Health and Social Care (DHSC) Tresiba FlexTouch insulin pens will be out of stock in the UK until December 2024.
Tresiba cartridges (Penfill) remain available and prescriptions for PWD may be changed to use the cartridges with a NovoPen 6 or Echo. if you haven't heard from your GP, perhaps give them a call to discuss your options.  
***
LEVEMIR TO BE DISCONTINUED IN US BY END OF 2024
Novo Nordisk have announced that they will stop production of Levemir in the US by the end of 2024. The company stated that there are likely to be intermittent delays to distribution and this may affect markets, and patients ability to get this type of insulin, outside of the US.
Read more about this here.
***
DIABETES RESEARCH D-CODED
A new tool has been launched which aims to demystify diabetes research. Founded by the Diabesties Foundation, a non-profit organisation based in India, the aim is to "simplify complex research studies about Diabetes, and to make science accessible to everyone living with the condition".
Partha Kar (NHS Co-lead for Diabetes in England) is one of the Advisors involved in the project.
Read more about this news here.
***
NEW SIBIONICS CGM GETS CE MARK
A new option for continuous glucose monitoring is set to launch in the UK and Europe, following a CE mark being awarded to Sibionics GS1 CGM.
Sibionics are the world's 3rd largest CGM company, based in China.
Click here to see Sibionics website.
***
THE TIME TO TACKLE RISING TYPE 2 IS T2DaY
The latest NHS patient data on diabetes shows that there are now more 18-40 year olds with type 2 diabetes than the total number of those with type 1, in England.
A recent article by Partha Kar, Co-lead for Diabetes, NHS England, published in the bmj, explains that these figures represent the fact that around 4% of people with type 2 diabetes are now under 40. However, the rise of 18% in the last 5 years is worrying in several ways and notably it identifies how disproportionately type 2 affects people already at risk of health inequalities.
A programme dedicated to under 40's - the world's first of this kind - is now being rolled out called 'T2Day: Type 2 Diabetes in the Young'. 
Click here for more information.
***
ABBOTT LOSES CASE AGAINST DEXCOM
A case brought by Abbott in the High Court in London has decided that Dexcom have not infringed Abbott's patent (for FreeStyle Libre sensors) in its design of the needle insertion mechanism used for the G7
. Dexcom successfully defended the case on the basis that the invention will have occurred to a skilled manufacturer anyway.
In return, Dexcom brought a case against Abbott for infringing 4 of its patents. The case, before Europe's Unified Patent Court, is ongoing.
***
Disclaimer:
Blogs and publications on this website are independent of any involvement by medtech companies or diabetes related charities. To ensure there is no bias, we do not accept any products, freebies or other material from any medtech provider. Except where credited otherwise, all materials are copyright ©️Love My Libre Ltd.
Love My Libre is not associated or affiliated with Abbott or FreeStyle Libre. Content here and on our website www.lovemylibre.com does not constitute medical advice or replace the relationship between you and healthcare professionals nor the advice you receive from them.
The author of this blog has type 1 diabetes and uses the FreeStyle Libre 2 which is provided on NHS prescription.