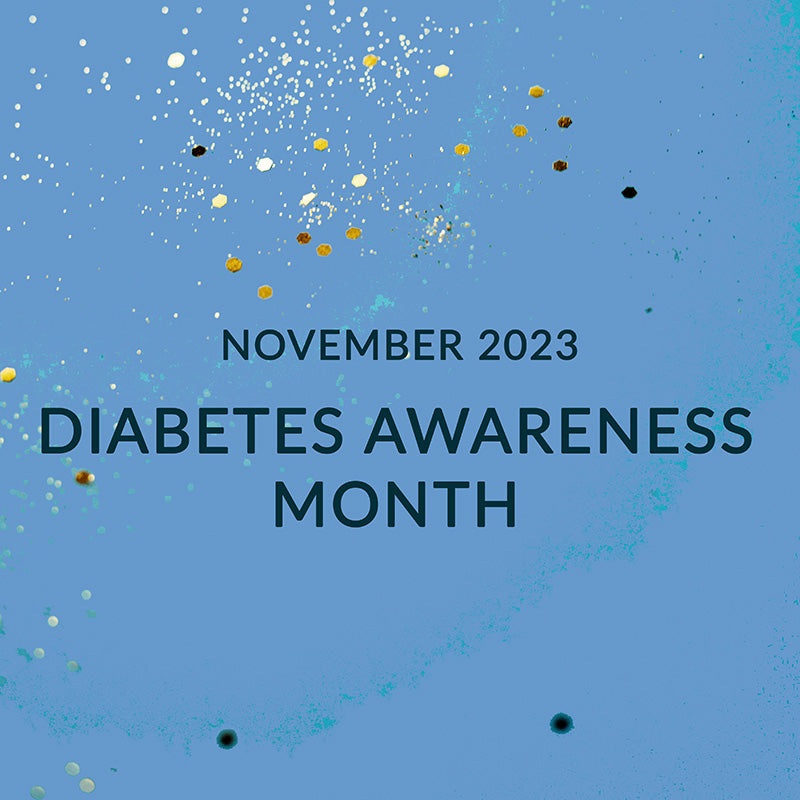 Blogs and publications on this website are independent of any involvement by medtech companies or diabetes related charities. To ensure there is no bias, we do not accept any products, freebies or other material from any medtech provider. All materials are copyright
©️

Love My Libre Ltd.
***
November is here and in the UK, it's National Diabetes Awareness Month (#NDAM) - time to build recognition of the condition and crucially, understanding so that it can be diagnosed and treated appropriately.
November has been the designated month for diabetes awareness since 1975. It was officially recognized in 1981 by President Reagan.
You might have noticed there's lots of 'blue' around as this is the official colour uniformly representing diabetes. It's actually a particular shade, Pantone 279, which was chosen by the International Diabetes Federation (IDF) in 1991 when it first formally recognised World Diabetes Day.
A circle is used as the logo as it is often seen as a positive symbol and across many cultures it represents life and health. Most importantly, it is used as a symbol of unity.
World Diabetes Day is celebrated every year on 14th November - being the birthdate of one of the Founders, Frederick Banting, and since 1991 has become an annual event. It is now the world's largest diabetes awareness campaign.
On World Diabetes Day many famous buildings and monuments all over the world are lit up in blue to signify their support for diabetes. This year over 327 events are planned in 88 countries, according to the International Diabetes Federation.
Find out about the history of the event and the marking of World Diabetes Day in our blog here.
***
Throughout November you can find both national and local events and activities being held to raise awareness of the condition. These often are often the efforts of  diabetes-related charities, healthcare professionals and a wide range of interested community groups, as well as medtech companies.
To save you 'Googling' around for events of interest we have listed some of these on this page so you can get involved.
Events & Celebrations
International Diabetes Federation
Thetheme for World Diabetes Day 2021-23 isAccess to Diabetes Care, with a focus on delaying or preventing type 2 diabetes and diabetes-related complications.The theme, which you will probably see on social media, is "Know your risk, Know your response".
One of the easiest ways to support the day is by taking a selfie using the IDF appand share their image on social media with the hashtag #WDD.
There are lots of other ways listed on the IDF website of how to get involved. Click here for more.
***
Diabetes UK – Charity
www.diabetes.org.uk
This November Diabetes UK are encouraging supporters to paint their nails blue to raise awareness of diabetes. Then promote this on social media using the hashtag #NailingDiabetes.
Free posters to raise awareness of these are available to download here.
There's more about how to get involved on the DiabetesUK website here.
 ***
Medtronic - medtech company
www.medtronicdiabetes.com
Following on from previous years' campaigns, Medtronic are promoting the campaign "A Life for a Child". The campaign involves bouncing a blue balloon in the air to symbolise the difficulty of managing diabetes.
You are then encouraged to post a photo or video on social media using the hashtag #BlueBalloonChallenge and in return for every post Medtronic will make a donation of $5 to the "A Life for a Child" organisation (https://lifeforachild.org).
This initiative is also being supported by Digibete in the UK.
Click here for more.
***
Banting House, Canada (the home-turned-museum considered the "birthplace of insulin")
www.bantinghousenhs.ca
People from across Canada and beyond travel to Banting House to take part in the World Diabetes Day celebrations. Banting House will be lit up in blue and there is an unveiling of commemorative bricks. 
Click here to find out more.
***
DRWF
www.drwf.org.uk
UK Charity, DRWF (Diabetes Research and Wellness Foundation) have teamed up with Bournemouth Airport to raise diabetes awareness with a travelling with diabetes awareness campaign.
The campaign, also involving Exeter and Norwich Airports, promotes a pre-travel checklist for passengers with diabetes produced by the charity.
Click here for more.
***
Love My Libre
www.lovemylibre.com
We have produced a fridge magnet and keyring with the above design to mark National Diabetes Awareness Month and raise awareness. This gift is included free with all purchases of Librebands and Dexbands in November.
***
Join an event near you
There are lots of smaller events taking place too and you may find an event locally to attend, some of which are being held by healthcare professionals to raise awareness in the local community.
Whatever activity you choose, we hope you'll be joining in on 14th November!
____________