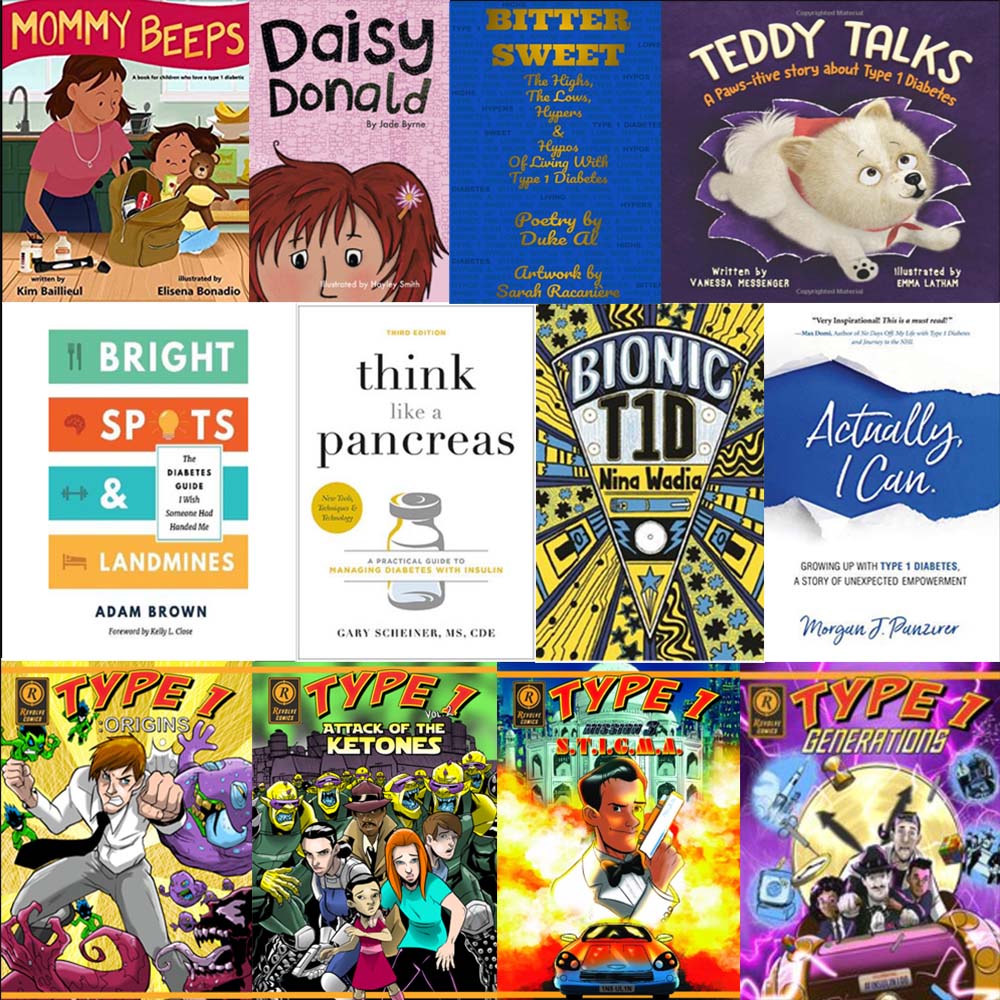 Blogs and publications on this website are independent of any involvement by medtech companies or diabetes related charities. To ensure there is no bias, we do not accept any products, freebies or other material from any medtech provider. All materials are copyright
©️

Love My Libre Ltd.
***
Happy World Book Day!
World Book Day is celebrating 25 years and in recognition of the event, I have put together a list of recommended books for those with diabetes. Some of these provide a really good read for those new to the condition, especially if you're trying to explain the condition to others.  
I have separated the books roughly into age groups so hope there's something suitable for everyone to enjoy whether you're a parent, carer or PWD. 
Reference books (adults)
think like a pancreas | Gary Scheiner, 3rd ed. 2020
Authored by a Diabetes Educator, the book answers many questions with clear explanations and actionable insights. A good reference source too. Be wary of some americanisms, terms & measurements etc.
Bright Spots & Landmines | Adam Brown, 2017
Author of a regular column on DiaTribe (www.diatribe.org). The book is divided into 4 topics; food; mindset; exercise; and sleep with actionable guides for readers to follow/complete. A more suitable book for those looking to take actions with their diabetes management rather than just passive information.
Sugar Surfing | Stephen W. Ponder
Promoting the author's method of managing diabetes and self-care, this is a very popular book, especially with those newly diagnosed. However, as the book was published in 2014, the philosophy and approaches are now a little dated. It uses American terminolgy and measurements. 
 * * * * *
Books for Young Adults & Teens
Actually, I Can. Growing Up with Type 1 Diabetes, A Story of Unexpected Empowerment | Morgan Panzirer, published 2020
An autobiographical account of a T1D teen growing up in the USA. It provides helpful information, insights and tips based on the author's own very relatable experiences.
Available on Amazon.
Bitter Sweet |Duke Al Durham, published 2022
A collection of original poems about having type 1 diabetes by Duke Al, who has the condition himself. 
The poems explain lots of details about managing the condition in a moving and inspirational way. Some profit from the book sales is donated to JDRF and Diabetes UK. Available from Amazon.
Type 1 Comics/Graphic novels | https://revolvecomics.com
Revolve Comics have collaborated with Diabetes Specialists from Portsmouth and Southampton diabetes teams and people living with type 1 diabetes to create a comic series (3 issues) based on Type 1 Diabetes. Recommended for age 10 years+.
 * * * * *
Books for children
Bionic T1D | Nina Wadia
Aimed at KS2 children (age 7-11 years) this is the story of a young boy with special super powers.
The author is well-known actress and comedian in the UK, who has appeared in Eastenders and on Strictly Come Dancing. She has a son with type 1 diabetes and is an ambassador for the diabetes charity JDRF.
Daisy Donald | Jade Byrne
Available directly: https://www.prickstheplay.co.uk/about-daisy-donald
Daisy wears an invisible cape everyday, to help her fight an invisible illness, her monster, Type 1 Diabetes. This book is aimed at explaining type 1 diabetes to young children around the age range 2-8 years.
Jade is an actress who has type 1 diabetes. She has written and starred in her own play called 'Pricks' which will be touring the UK in 2022. Find out more here: https://www.prickstheplay.co.uk
Mommy beeps! | Kim Baillieul, published 2019
Self-published and authored by a person with type 1 diabetes. The story is about a mother who lives with T1D and is educating her child on why things are a certain way living with the condition.
Teddy Talks |Vanessa Messenger, published 2021
Teddy isn't the averagefur-iend...but neither is Emily! When she was first diagnosed withType 1 Diabetes, it all seemed overwhelming. But now, the pair never lets anything stand in the way of everyday adventures...and they can teachyou how too!
The book includes a glossary of common terms and explains how Emily uses a Continuous Glucose Monitor (CGM).
Written by a Type 1 Diabetic mother and available on Amazon and other book shops.
The adventures of Captain Lantus | Gary Rapson, published 2022
The author was inspired to write the story by his 6 year old son, Max Rapson. You can find out more and order here: https://www.captainlantus.com
___________
Disclaimer:
Love My Libre is not associated or affiliated with Dexcom, Abbott or FreeStyle Libre. Content here and on our website www.lovemylibre.com does not constitute medical advice or replace the relationship between you and healthcare professionals nor the advice you receive from them.
The author of this blog has type 1 diabetes and uses the FreeStyle Libre 2 which is provided on NHS prescription. We do not have any affiliate relationship with Abbott or FreeStyle Libre.