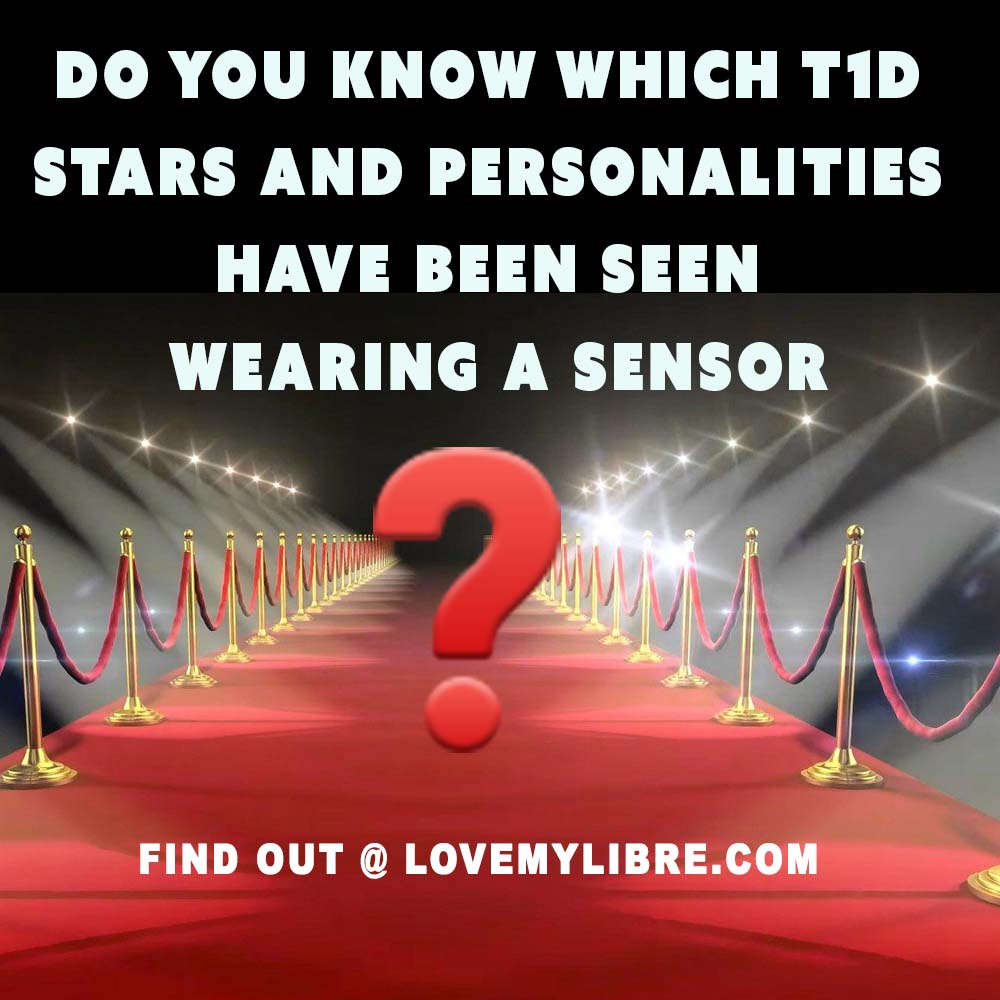 Blogs and publications on this website are independent of any involvement by medtech companies or diabetes related charities. To ensure there is no bias, we do not accept any products, freebies or other material from any medtech provider. All materials are copyright
©️

Love My Libre Ltd.
***
Following November's Diabetes Awareness month there have been sightings of a number of celebrities and known personalities wearing their sensors!
In this blog we discover which stars known in the UK have type 1 and have been seen sporting their medtech. I hope you'll find the images and info inspiring!
James Norton – Actor
James Norton, a British actor who's appeared in key roles in "Grantchester," "McMafia" and "War and Peace" recently posted on Instagram a shirtless picture of himself on the beach in Kent showing off his Dexcom G6. In recognition of Diabetes Awareness Month, he captioned the image with the comment ' to all my fellow type 1 warriors out there. Being a type 1 diabetic is like having a really annoying friend. It requires constant care and attention as well as patience and fortitude, but occasionally can be a strange sort of support, and even a power... '
James was diagnosed with type 1 when he has 22 years old and often has had to adapt his diabetes management around his work. When he's working on a period drama, he'll get the costume designers to create a hidden pocket where he can stash some sugar tablets. He has admitted that when he starts to feel shaky, he'll improvise by wandering upstage, throwing three dextrose tablets in his mouth and then carry on with the scene.
Amelia Lily - Singer
Amelia Lily is a singer who has several chart hits since finishing 3rd on the X-Factor in 2011, the year that Little Mix won. Often recognised by her pink hair, she is an ambassador for FreeStyle Libre® and recently answered sensor wearer's questions in a special wellness feature for the company, "Amelia Asks".
Amelia Lily has had type 1 since she was 3 years old and has described her experience at the time as very difficult and her mum had to pin her down to give her the injections needed. She learnt how to do them herself at around 8 years old, already aware that she couldn't always rely on her parents. 
Her uncle also has diabetes and in February 2020 her mum was diagnosed with type one.
Lila Moss – Model
The image of the model - Kate Moss's daughter – wearing her Omnipod on the catwalk at Milan Fashion Week has really brought excitement to those with diabetes who could see that it wasn't a condition that had to be hidden.
Lila, 18, hasn't spoken much about her condition but it's likely we will see, or hear, more from her following her comment in 2020: "I'd definitely like to try and help as much as I can. There's loads of things I'd like to try and help with".
Nick Jonas - Singer and Actor
Nick Jonas - part of the US band The Jonas Brothers - is a strong advocate for diabetes awareness and vocal about his support for medtech – particularly Dexcom as he starred in an advert for the company at the Super Bowl in 2021.
Nick was diagnosed with type 1 aged 13 years after one of his brothers recognised his symptoms. He is a co-founder of Beyond Type 1, a not for profit organisation aimed at educating and empowering others with diabetes.
Nikita Kuzmin – Strictly Come Dancing Professional Dancer
Lots of type 1s were following Nikita and dance partner Tilly Ramsey in the recent series with many 'playing spot the Libre' each week. The sensor was clearly visible when he whipped off his shirt in a dance-off before being eliminated from the competition. There were lots of positive comments about the 'patch' on his arm in the press and those with diabetes have welcomed the sight of sensors as normalising diabetes tech.
Nikita has had diabetes from a young age.
Ed Gamble - Stand-up Comedian
Ed is a stand-up comedian who has been a regular pannelist on Mock the Week since 2015. He won Taskmaster in 2019 and went on to present Taskmaster the podcast in 2020.
Ed is very upfront about having diabetes and has said previously that he's "mentioned it on stage, online and at every family Christmas since 1999". Diabetes was the central topic of his 2018 Edinburgh Fringe show "Blizzard".
When describing how he manages his diabetes when performing he has described the feeling of adrenaline as "obviously a bit of a pain in my line of work. Before a show, my blood sugar level might be quite high and then, due to the adrenaline of going out and performing, it'll often be two hours after the show finishes and then it'll just plummet."
Ed was diagnosed T1D when he was 13 years old. 
Muhammad Ali - Professional Boxer
Muhammad is the first British boxer with type one diabetes to be granted a professional licence by the British Boxing Board of Control (BBBOfC) - after a 3 year battle against the discrimination of the licensing system. His ambition is to be a World Champion boxer. 
During his first fight, the BBBC insisted that he wear two flash glucose monitors as proof that his glucose levels are safe and he had to supply all the data for a week before. He also has to scan his sensor at the end of each round to make sure he is okay to carry on. He wears his sensor on the lower part of his body.
Muhammad was 5 years old when he was diagnosed with type 1. His website describes how he feels about having diabetes:
"Diabetes is a condition, not an illness; I'm just like any other ordinary person. Life is not about waiting for the storm to pass by but learning to weather the storm. One day I'd love to say I lived by diabetes."
He is sponsored by Abbott and is ambassador for Diabetes UK, JDRF and IDF.
Teresa May – Politician and ex-Prime Minister
Teresa May was originally diaganosed with type 2 diabetes back in 2013 while she was Home Secretary. After her medication failed to make a difference, further tests were carried out which determined she had type 1. Being an MP meant long hours in the House of Commons and she once broke the rules by eating in the House - she hid nuts in her pocket and ate them from time to time when her colleague next to her lent forward.
Teresa May became Prime Miniter in 2016 and was seen wearing a Libre sensor at this conference with President Trump.
Dom Littlewood – TV Presenter
Shown having his Covid booster vaccine.
Dom is best known for BBCs Cowboy Builders and Don't Get Done, Get Dom. He is a regular on The One Show and has appeared on Strictly Coming Dancing. Whilst filming for Strictly he had a scare when he had a very low hypo and was close to falling into a coma, but fortunately was given sugary drinks by the camera crew and quickly recovered. 
Dom has had diabetes for over 30 years, as he was diagnosed with type one at 10 years old.
Sheku Kenneh-Mason - Cellist
Sheku won the BBC Young Musician award in 2016 and also played at the wedding of Prince Harry and Meghan Markle.
He was diagnosed with type 1 diabetes at the age of 12. At the time, people told his parents that they "should have given him a better diet". Coming from a very close family, Sheku always had a member of the family with him when he performed so to keep a track on his diabetes management and at home his siblings knew how to get him round if he had a severe hypo.
Now on the international music stage, he is very aware that before a concert his adrenaline will 'kick in' and this can bring on a hypo. He always makes time for eating properly (before and after a concert to balance his glucose) and his management team know how to monitor his glucose and when to take appropriate action.
Sheku is an global ambassador for JDRF and wants to be seen as a role model for others diagnosed with T1. "I just want to show them that it hasn't affected me being able to do what I've always wanted to do."
And coming in 2022 - A new star to keep an eye out for!
Disney's new animation "Turning Red" will feature a character wearing a CGM. It's set to be released early in 2022.
Other T1s
There are also other 'names' with type one diabetes you may come across or hear about. The following are known to be T1D;
Chris Brighty (Football)
Mel Stephenson-Gray (Athletics)
Hannah McCook (Professional Golf)
Chris Pennell (Rugby)
Henry Slade (Rugby)
Gary Mabbutt (Football)
Stephen Dixon (Sky News)
Roxy Horner (Model)
Mari Wilson (Singer)
Jade Byrne (Actor)
Team Novo Nordisk (Cycling)
And there are also a number of celebrities who have a close relation with a person who has type one and are active in the diabetes community, helping to raise awareness of the condition. These include;
Nina Wadia (Actor) - her son
Mel C (Spice Girls) - her brother
Dan Hawkins (Band, The Darkness) – his daughter
Mr Motivator (Fitness Guru) – his daughter
There's lots of inspiring stories from these celebrities about their life with diabetes - why not look them up?
___________
Disclaimer:
Love My Libre is not associated or affiliated with Dexcom, Abbott or FreeStyle Libre. Content here and on our website www.lovemylibre.com does not constitute medical advice or replace the relationship between you and healthcare professionals nor the advice you receive from them.
The author of this blog has type 1 diabetes and uses the FreeStyle Libre 2 which is provided on NHS prescription.
FreeStyle Libre is a registered trademark of Abbott Diabetes Care Inc.
Dexcom and Dexcom G6 are registered trademarks of Dexcom Inc.